Landscape drainage problems like standing water in your yard, deck, hardscape, and around your building or house can be a nightmare!
Let's talk about it. There are some great solutions for drainage issues. Ones that work best with Mother Nature, whether you have a yard or a commercial property.
---
Signs of a Landscape Drainage Problem
If you notice these you probably have a drainage problem.
You have a mosquito or other insect problem.
Soil is wet for prolonged periods of time.
Moss growth.
Plant material that appears unhealthy or stunted.
Exposed tree and plant roots.
Soil erosion.
Severely compacted soil.
Uneven or cracks in hardscapes or paved areas
We recommend the 7 drainage solutions below. With a description of how they work. Do yourself a favor, talk to a professional with the experience and equipment to do the work right.
7 Drainage Solutions
French drains
Type of drain: subsurface
It's basically a trench filled with gravel or rock and contains a perforated pipe designed to address subsurface water. A French drain in your yard or commercial property will redirect surface water away from its foundation to landscape beds or other areas that need water. Consider this if
Water is pooling near the foundation of your building
Your soil excessively compacted.
---
Catch basin or storm drain
Type of drain: subsurface
One of the best investments you can make to your landscape drainage system. It moves water fast. Keeps it away from your structure, or from pooling in your turf or planted areas. Catch basins have a grate on top and an underground drainage pipe that slopes away from the basin. They are often installed in turf or hardscape areas. Periodic maintenance involves both clearing out debris and sediment underneath the grate and flushing it out of the pipe.
---
Channel Drains (also called a trench drain)
Type of drain: surface

It moves water through an underground drainage system. Channel drains are long and narrow (see below) and are often used to protect hardscape from expensive water damage. Tip – keep the surface around the drain clear of debris so the water can flow unobstructed.
---
Bioswales (also called dry creek bed)
Type of drain: surface
A shallow trench designed to direct stormwater runoff from one area of a property to another.
Installing plant material, rock or mulch will slow the movement of stormwater filtering it from harmful chemicals. They typically have a drain at one end to take away water that doesn't infiltrate. Bioswales can also help recharge groundwater. See the photo below of a GGI project in Santa Rosa.
---
Re-grading
If there are uneven surfaces in your landscape, it can cause water to start pooling in the landscape or around the perimeter of your building. Re-grading is another solution. It's the process of leveling out the land, redirecting rainwater, away from your building or paved areas.
---
Improve Soil Structure – for compacted soil
Severely compacted soil (see below) will result in poor surface drainage in turf or landscape beds. Its cause can be clay soil, heavy equipment use, foot traffic, or excessive tillage. This will constrict soil pore spaces making them unable to absorb air or water. One solution is to amend the soil with products like compost, worm castings, or other organic materials. This will boost the population of microorganisms that are needed to create larger pores. The consistency of healthy soil is loose and crumbly and teeming with microorganisms. Use the image below as a guideline.
---
Also called pervious (concrete) paving. Cheaper than standard concrete paving, more attractive, and better for the environment! Plus, developers and designers love it. In fact, it's listed as one of EPA's Best Management Practices. Being porous, rainwater will drain directly into the soil, naturally filtering it, before running off. Perfect for patios and driveways.
For more details, see our previous post on permeable pavers.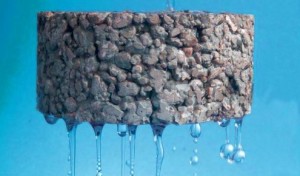 Prevent Problems by Managing your Drainage System

Be proactive. Learn what to look for.
If you have a landscape contractor, make sure they understand how to spot drainage problems in the landscape. A simple example – keep your soil from becoming compacted by regular aeration (if you have turf) and regularly input organic products to maintain its healthy structure.
And, call us with any questions.
Wishing you safety and good health.
(510) 439-3700
https://www.gardenersguild.com/wp-content/uploads/gardenersguild-logo.jpg
0
0
sharris2011
https://www.gardenersguild.com/wp-content/uploads/gardenersguild-logo.jpg
sharris2011
2021-03-03 22:47:02
2021-03-04 20:04:37
Landscape Drainage Problems and 7 Solutions for Them