We are well into May – the official start of fire season. It may be hiding behind the coattails of COVID-19, but we know it's here. In spite of recent rains (which we are grateful for), temperatures will heat up and dry weather will prevail for the next several months.
Like clockwork the call volume at Gardeners' Guild's has spiked with requests for weed abatement. This is vegetation management – an essential part of fire prevention – and our topic for this month. Our forty-plus years of experience managing vegetation inform this month's content and make us a valuable resource for you.
A note about the pandemic and Gardeners' Guild's status
We are open now – since the state has determined that landscape activities are essential. I hope this post finds you well. Please call us with any questions about our policy.
(510) 439-3700.
As if you aren't dealing with enough – the shock and overwhelm of a pandemic thrust upon you. Now, Californians, we enter summer with fire prevention added to our to-do list.
This post is focused on vegetation management and its role in preventing wildfires. We help you navigate this with simple and easy-to-digest basics.
I've synthesized the essentials.
What vegetation management is, why it's important now and actions you can take to minimize your risk of wildfire.
Scroll down to see a great video on Fire Wise landscaping and links to several county resources.
---
Why is this important now?
Wildfire season 2020 threatens to be longer, with bigger fires unleashing more devastation. Being educated and taking appropriate action now will help protect your investment, family, and neighbors.
Daniel Swain is a UCLA Climate Scientist and author of WeatherWest.com. He studies extreme weather events and their causes. I began following Swain during the drought and was in awe of his spot-on analysis of weather events.
In a recent post on weatherwest.com, Swain said:
"the NIFC* is predicting a higher than average likelihood of large wildfires across NorCal by mid-summer–and I would expect that ultimately to be true into the autumn as well." *NIFC or Nation Interagency Fire Center is a support center for wildland firefighting, located in Idaho.
You may notice that your local fire department is requiring more engagement from you this year. I've noticed some are scheduling inspections and amplifying their public education efforts.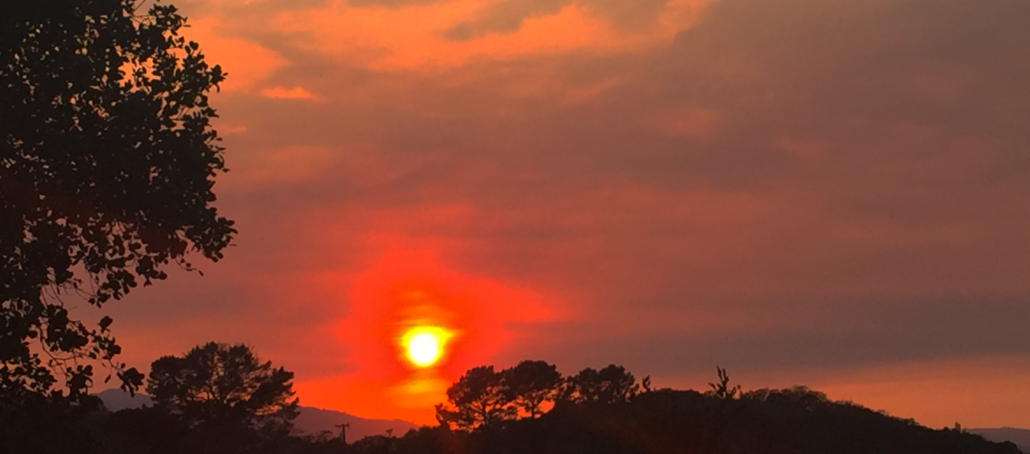 North Bay Sunset – October 2017
---
The 3-R's of Vegetation Management

Vegetation management is the process of controlling plant material to minimize the risk of fire ignition and spread.
Removal
Of dead fuels (vegetation), weeds, brush, invasive species and plants deemed a fire accelerant.
Reduction
Thinning heavy brush and trimming trees. Crucial to reducing the spread and intensity of a wildfire.
Pruning shrubs and trees will provide adequate separation between them and away from your structure.
Check with your local fire department for plant spacing requirements in your area. The section below has a link on spacing tips for properties on a slope.
Replacement
Replace with fire resistant plants. These plants should be non-oily, deciduous or have higher water content. Make sure they are free of dead wood and well hydrated.
Below are links to great tips including fire resistant plants



---
How to manage your vegetation depends on its location
Is your property in an at-risk area?
Check on the latest guidelines from your municipality or county. They're changing as the threat of wildfire becomes more extreme. Below are tips for assessing your property's wildfire risk.
Advice from Contra Costa County's Wildfire Protection Plan
"Rigorous oversight, active management, and an adaptive approach are required to achieve fuel management goals."
Especially at risk are WUI or Wildlife Urban Interface areas
Areas, where wildland and residential communities intersect, are at risk for wildfire. Categorized as "high" or "very high" risk. Contributing to this is a trend toward building more homes adjacent to open space.
Parts of Marin, Contra Costa, and Sonoma Counties are considered "very high" or "high" risk.
Is your property on a hillside?
Wildfires on a slope burn more rapidly and longer flame lengths than along flat ground. The steeper the slope, the more quickly it will travel.
Clearance between shrubs should be 4 to 40 feet depending on the slope and size of vegetation.
Assess your property's risk of wildfire exposure by looking at the slope of the land around your commercial building or home and the direction your building faces. See these tips from FireSafe Marin if you are on a slope
Vegetation Management Activities
Manual – hand pulling or cutting
For smaller areas, this is sometimes preferred for removing the weed's roots.
Mechanical treatments
Such as mowing of weeds
Selective tree removal
Chemical treatments with herbicides
The least desirable method, but sometimes warranted for large areas as part of an integrated pest management (IPM) plan. For weeds that are invasive and combustible.
Fire Break Work
Work usually performed on a hillside with equipment that creates a non-flammable gap between vegetation, acting as a barrier to stop the progress of a fire.
Managed Grazing
Generally used for large areas for fire breaks and to clear combustible weeds. Goats, miraculously suited to the job, forage for low lying grasses, weeds, trees, shrubs, branches and invasive vegetation. They can also reach upwards of 4 to 5 feet to eat tree branches, which reduces "ladder fuels" and helps to slow spreading of a fire. It's a cost effective, environmentally friendly option and a joy to watch.
Controlled Burns
The state of California says this about controlled burns:
"Sometimes called a controlled burn or prescribed fire, prescribed burning is one of the most important tools used to manage fire today. As catastrophic wildfires continue to be a growing concern in California, the use of prescribed burning to reduce hazardous fuels is projected to increase. Daily burn decisions are issued based on the forecast of air quality and meteorological conditions that can affect smoke dispersion."
---
What you can do now
Know your property and its risk of wildfire
Make sure you have the most up to date information from your local fire department. (See below for links).
Create a vegetation management plan that consists of the 3-R's mentioned above
For removal or thinning, hire a landscape professional or an Arborist.
Begin defensible space planning
The links below have the latest requirements on defensible space.
We will also cover this topic in the summer.
Inspect your property
A letter to the Marin IJ's editor, written by a Fire Ecologist has tips I wanted to pass along. He suggests that people still stuck at home could examine their property for dry debris within five feet of a structure's foundation, especially under wooden stairs and decks. The reason – embers from approaching fire target these areas.
Call us with questions about vegetation management to prevent fires.
(510) 439-3700.
See the video below on Fire Smart landscaping, narrated by a local Master Gardener. Below the video are links for you.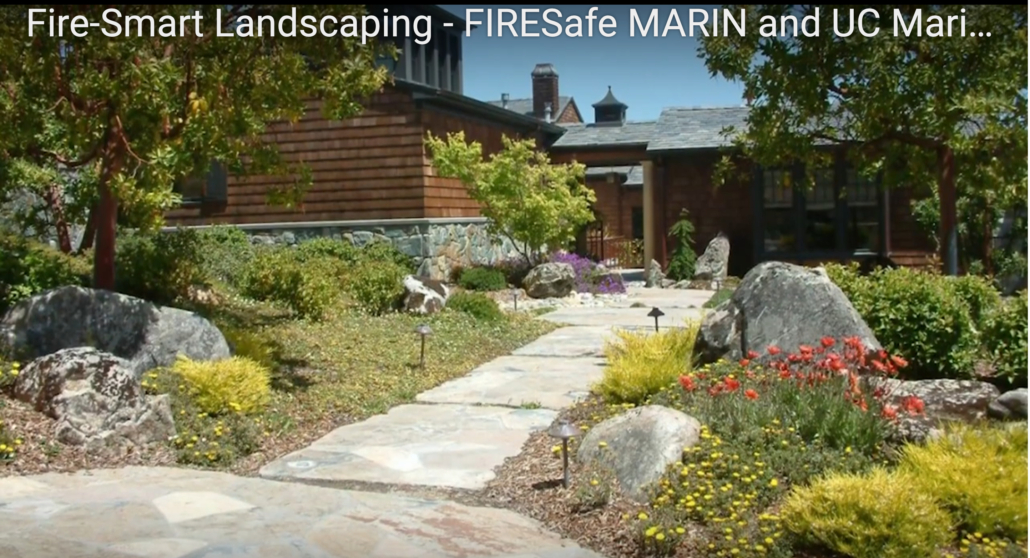 ---
The links below have the most up to date guidelines on reducing your risk.
Wishing you good health.
https://www.gardenersguild.com/wp-content/uploads/gardenersguild-logo.jpg
0
0
sharris2011
https://www.gardenersguild.com/wp-content/uploads/gardenersguild-logo.jpg
sharris2011
2020-05-20 15:41:38
2020-05-20 15:41:38
Vegetation Management to Prevent Wildfire