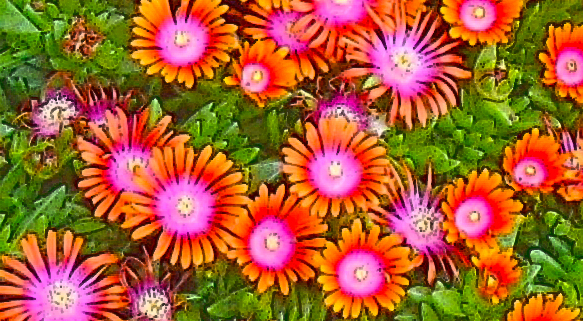 3 Tips for Fire Safe Landscaping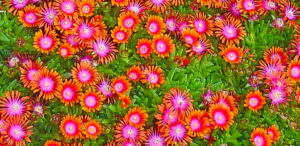 Firespinner Iceplant "Delosperma"
There are a number of resources for firesafe landscaping.  This post summarizes some of the best practices, plus links for more information.
Tip 1: Create Defensible Space
Defensible space is the clearance created between a structure and the grass, shrubs, trees or any natural area that surrounds it. State of California says it is a property's "front line of defense against wildfire".
It is needed to slow or stop the spread of wildfire and also protects firefighters.
There are two zones; the first is 30 feet, the second, 100 feet.
Zone 1
Essentials are to remove dead plants, leaves, grass, weeds and woodpiles.
Remove branches that hang over your roof.
Keep tree branches a minimum of 10 feet from each other
Separate patio furniture and equipment that could catch fire
Zone 2
Keep grass height to be maximum of 4"
Vertical spacing between grass, shrubs and trees
Horizontal spacing between shrubs and trees.
Tip 2: Landscape Design
Note: no plant is fire-proof, but there are plants more fire resistant.
In addition to plant selection, factors such as size, height, density and spacing between plants are very important.
Marin County Firesafe promotes the use of masonry, gravel, stepping stone or stone walls and decorative rock.
Mulch does help conserve moisture. However, it will burn. Do not use it in garden beds near home our outbuildings. Note: stringy mulches ignite and burn more rapidly.
A Sample list of fire resistant plants (below is a link to the complete list)
| | |
| --- | --- |
| Agapanthus | Dwarf lily-of-the-Nile |
| Liriope | Lily turf |
| Vinca minor | Dwarf periwinkle |
| Lavandula angustifolia | English lavender |
| Rosmarinus officinalis* | Tuscan blue' rosemary *(when irrigated, free of dead material) |
| Salvia chameadryoides | Sage |
| Thymus serpyllum | Thyme |
| Achillea millefolium | Common yarrow |
| Ceanothus 'concha' | Wild lilac |
| Ceanothus maritimus | Maritime ceanothus |
| Cistus purpureus | Orchid rockrose |
| Dietes fortnight | Llily |
| Lavandula dentata | French lavender |
| Limonium perezii statice | Sea lavender |
| Ribes viburnifolium | Catalina perfume |
| Solanum jasminoides | Potato vine |
| Tecomaria capensis | Cape honeysuckle |
| Eschscholzia californica | California poppy |
| Mimulus longiflorus | Monkey flower |
| Echinacea purpurea | Purple coneflower |
| Rosa florabunda | Rose |
| Rudbeckia fulgida | Black-eyed susan |
| Erigeron karvinskianus fleabane | Santa Barbara daisy |
| Festuca glauca | Fescue |
| Iris douglasiana | Douglas iris |
| Kniphofia uvaria 'DWF' | Red-hot poker, torch-lily |
| Lantana camara | Lantana |
| Lavandula angustifolia | English lavender |
| Rhamnus californica | Coffeeberry |
| Santolina virens | Santolina |
Tip 3: Landscape Maintenance
Regular irrigation is important. Plants with high moisture content will be less flammable. We must walk the fine line with enough, but not too much water. Dead and woody branches can more easily catch fire.
Control invasive weeds
Prune dead branches within tree canopy
Thin out dense shrubs to reduce fuel load
Clean up of dead branches
Selectively remove trees and shrubs to improve spatial separation
Sources include: State of California, County of Marin and Western Arborist
https://www.gardenersguild.com/wp-content/uploads/Delosperma-Firespinner2-e1596731229724.jpg
578
583
Gardeners Guild
https://www.gardenersguild.com/wp-content/uploads/Gardeners-Guild-logo-web-tweak.png
Gardeners Guild
2016-08-09 00:40:24
2022-07-27 23:43:35
3 Tips for Fire Safe Landscaping