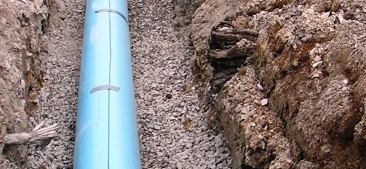 Landscape Drainage Lessons
How A Neighborhood Drainage Problem Was Solved
I live in a semi-rural unincorporated neighborhood in North Marin.  Our houses are built on a steep hillside.  When it rains the water runs down the north side of the street and into a gutter with an underground pipe.  No sewers.
When the water flows unobstructed all is good.  Unfortunately, the street infrastructure is old and over time the pipe became increasingly blocked resulting in water damage on the south side of the street.  During last year's El Niño it became critical and it threatened additional flooding of properties on the south side of the street. 
Fortunately, this summer neighbors came together to forge a solution.  The pipe was found to be decayed and mangled.  It was replaced and and a retaining wall was constructed.  The retaining wall offered an additional barrier so runoff would stream, not flood into the gutter.
The two projects were completed in enough time before the first big rain while the neighbors on the south side of the street breathed sighs of relief. 
I learned two lessons about drainage through this experience. 
One, lack of preparation can cause expensive damage and two, living in a community of active and collaborative people makes a big difference!
https://www.gardenersguild.com/wp-content/uploads/underground_utilities_1.jpg
169
366
Gardeners Guild
https://www.gardenersguild.com/wp-content/uploads/Gardeners-Guild-logo-web-tweak.png
Gardeners Guild
2016-10-26 18:53:34
2022-07-27 23:43:14
Landscape Drainage Lessons