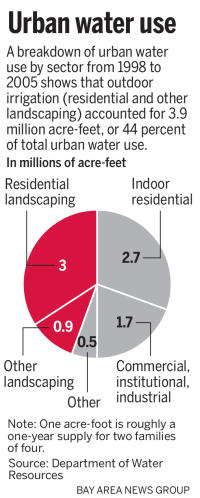 $500 Fines for Over-Watering?
The California State Water Resources Control Board is submitting a  proposal to Sacramento Tuesday, July 15th, designed to impose strict penalties to residents who overuse water.  It would require local officials to monitor usage and levy fines up to $500.
Chairwoman Felicia Marcus says "we are trying to ring a bell and get people's attention.  Thousands of people out of work. We have communities struggling for water, and bathing out of buckets". Evidently voluntary conservation has not been effective.  A recent survey by the board found that Bay Area residents have only cut back (on average) of 2 percent.
If the new measure is adopted residents will be restricted from applying excess water outdoors.  Landscape watering that causes runoff, washing a car without a shut-off nozzle, pavement watering and the use of potable water in a fountain or other decorative water feature all will be prohibited.
Residents and landscapers take notice, the State is serious.  There are no guarantees that our drought will end with an El Niño this winter. If  the new rules are app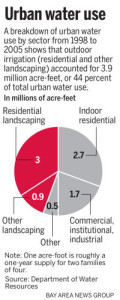 roved local districts will be compelled to file monthly reports on per capita usage of water among its customers.
https://www.gardenersguild.com/wp-content/uploads/WaterUseGraph.jpg
498
200
Gardeners Guild
https://www.gardenersguild.com/wp-content/uploads/Gardeners-Guild-logo-web-tweak.png
Gardeners Guild
2014-07-14 23:11:23
2014-07-14 23:32:20
$500 Fines for Over-Watering?