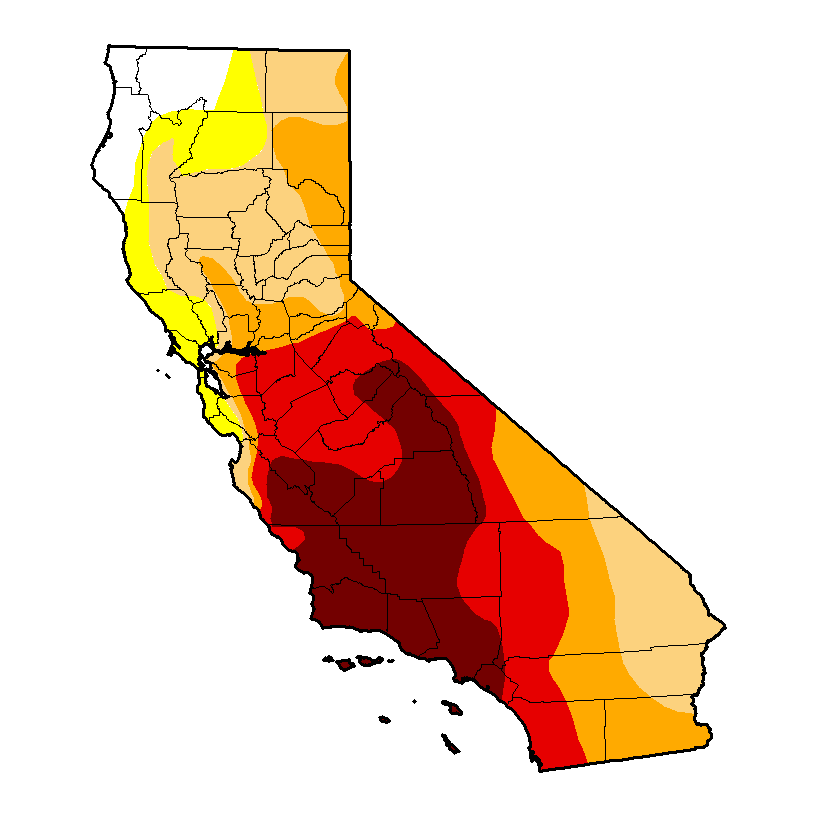 California Lifts State 25% Water Conservation Mandate
The State Water Resources Control Board, responding to pressure to relax water rationing from June 2015, is allowing water districts to set their own conservation targets based a projected additional three-year dry spell. 
An important caveat: the state will have oversight and each district will be required to submit a monthly water use report.  And, if projections are found to be unrealistic, there could be a return to state regulations.
Permanent Restrictions


Hosing down driveways or sidewalks
Washing cars without shut off nozzle
Using non recirculated water in decorative fountains
Causing runoff when watering lawns or within 48 hours of rainfall
Irrigating turf on public medians

The water picture for Northern California is quite different from Central and Southern California.  Sections of these areas remain parched.  The US drought monitor reports that 90 percent of the state remains in a drought.  See map. In fact, there are some communities whose supplies of water are limited.
Emphasis on Long Term Planning

The message was a sobering reflection on California's future reality, in that it is likely to include more frequent drought years.  The Governor underscored the need for effective long term drought planning.
Felicia Marcus, chairwoman of the state's Water Resources Control Board, said Our emphasis is on conservation as a way of life in California." She also stated that we no longer have the luxury of taking our precious water for granted.




 
Irrigation and Other Landscape Rebates Are Available!


*State of California Residential Turf Replacement Rebate

About the program: The California Department of Water Resources is offering rebates to single-family homes throughout the state who replace high water-using turf grass with landscapes that require little water. The State will rebate $2 per square foot of turf removed, with a cap of 1,000 square feet, for a maximum rebate of $2,000 per household to applicants who reside in the service area of agencies that have not offered turf rebate programs. The total rebated amount, including any rebates the homeowner has already applied for from another agency, can't exceed a total of $2 per square foot.

SFPUC

Only the State* residential turf replacement rebate program is mentioned on their website.

EBMUD 


Conservation Message

EBMUD declared an end to the drought emergency on May 10, 2016.

State outdoor water use restrictions are suspended effective July 1, 2016.

Some restrictions will be folded into our permanent rules.

Current outdoor watering rules

The following outdoor watering restrictions are in place until June 30, 2016. Some of these restrictions will be folded into permanent rules.

Water outdoor no more than two days per week. 
No watering of ornamental turf on public street medians allowed.
No washing of driveways and sidewalks; except for health and safety.
Use only hoses with shutoff nozzles to wash vehicles.
Recirculated water only for fountains or decorative water features
Use of hydrant water outside the EBMUD service area is prohibited.
Use a broom or air blower, not water, to clean hard surfaces such as driveways and sidewalks, except as needed for health and safety purposes. 

Rebate Information

Residential customers – see State Turf Replacement Program* (See above)

The following property types qualify for six listed rebates below:

Residential/Multi-Family properties (with 4 units or less) Up to $2,500*
Multi-Family properties (with 5 Units or more) Up to $20,000
Commercial properties – Up to $20,000

6 rebates

Convert high water use lawns to sustainable landscaping.
Convert sprinklers to drip irrigation.
Replace conventional sprinkler nozzles with high-efficiency rotating models.
Replace conventional irrigation timers with self-adjusting models.
Install pressure regulators to improve system performance.
Install sub-meters to improve leak detection and irrigation efficiency.

MMWD

Conservation Message

The district reminds customers that the following restrictions are still in effect:

Irrigating ornamental landscape areas or turf grass with potable water more than three days per week
Irrigating during or within 48 hours after measurable rainfall
Irrigating between 9 a.m. – 7 p.m., except for system testing and repair
Using a hose without a shutoff nozzle
Allowing irrigation water to run off or overspray the irrigated area
Hosing down sidewalks, driveways, and other hard-surfaced areas
Non-recirculating decorative fountains

Rebate Information

Residential customers

See State Turf Replacement rebate*

Commercial and Multi-Family

Rebates for commercial & multi-family customers
There is a rebate for irrigation improvement for commercial and multi-family irrigation customers.
Up to $1,500 per irrigation meter

NMWD (North Marin Water District)

Rebate Information
Residential or Commercial

Weather Based Irrigation Controller Rebate

Rebate amount: up to $1,200 per controller. Rebate cannot exceed the purchase price of the Smart Controller.  Offer good until December 31, 2016

List of requirements on website.  http://www.nmwd.com/pdfs/conservation/2016/Smart%20Controller%20Rebate%20Form%20FY16%20010116.pdf

Residential Only

Option 1 – Local "Cash-For-Grass" Turf Replacement Incentive

NMWD is offering residential customers a cash incentive for removing automatically irrigated lawn area in their landscapes and replacing with District approved, low water use planted landscapes. 
The incentive is limited to

$400 for single family dwellings,
$100 for townhouses or condominiums,
$50 for apartments.

Option 2 – Single Family Homes can opt for the State Program*

Residential and Commercial

Water Smart Landscape Rebate –

Rebate amount:

50% of the actual cost of District approved items, up to a maximum of
$100 for residential customers.
$500 maximum for commercial customers 

The following upgrades are eligible:

Drip irrigation systems
Water pressure-regulating devices
Check valves
Multi-stream rotating sprinkler nozzles (for lawn areas only)
Rain shut-off devices
Mulch
Soil conditioner/amendment

Commercial Turf Conversion – evaluated on a case by case basis. It depends on the size of the property. 

Santa Rosa Water Agency

Rebate Information

Turf removal rebates available for residential and commercial properties
There are irrigation hardware rebates available for residential or commercial properties

Residential

Irrigation Efficiency Rebate: up to $100.00* for qualifying equipment/hardware

Commercial

Irrigation Efficiency Rebate: up to $1,000.00* per meter for qualifying equipment/hardware

*Rebate cannot exceed the cost of materials. Rebate amount excludes labor. Cash for Grass and Irrigation Efficiency Rebate cannot be issued for the same treated area.

Residential Rebate

Cash for Grass Rebate:  $0.50/sq. ft. up to max of 500 sq. ft. or $250.00
Irrigation Hardware Rebate:  $100.00* for qualifying equipment/hardware 

OR customers can utilize the state rebate program* (see above)

Commercial Rebate

Cash for Grass Rebate:  $0.50/sq. ft. up to 5,000 sq. ft. max or $2,500.00
Irrigation Hardware Rebate:  $1,000.00* for qualifying equipment/hardware

*Rebate cannot exceed the cost of materials.  Labor is not included in rebate amount.  Cash for Grass and Irrigation Hardware Rebate cannot be issued for the same treated area.

Special Water Management Rebate – for dedicated irrigation meters
This rebate is available to those commercial customers who already have a dedicated irrigation meter. Water Conservation staff will calculate a water budget based on your specific landscape. Customers can earn rebates based on how closely their irrigation water use mirrors the calculated water budget. For more information, please contact water conservation staff at (707) 543-3985.

City of Petaluma

Rebate Information

Smart Irrigation Controller for Commercial, Industrial and Institutional accounts as well as Multi-Family Residential accounts up to a $900 rebate

Rebate Amount:
Up to 12 active stations: $300.00
13 to 24 active stations: $600.00
25 or more active stations: $900.00

Residential customers can take advantage of state turf replacement program* (see above)

Solano County

Their rebate program is on hold and expected to resume July 1st.

Alameda County
There is a rebate program for water efficient landscaping for both residential and commercial landscapes.
Residential customers can take advantage of state turf replacement program* (see above)

Contact Gardeners' Guild for help in navigating through the sometimes confusing rebate process and also, ideas on water efficient landscaping as well as efficient irrigation spray, drip systems and "smart" irrigation controllers.

Main 510-439-3700
Caitlin Patterson – Irrigation 510-439-3704
Suzanne Harris – landscape maintenance 510-439-3728


 
 
https://www.gardenersguild.com/wp-content/uploads/DroughtMonitor5-19-16.png
816
816
Gardeners Guild
https://www.gardenersguild.com/wp-content/uploads/Gardeners-Guild-logo-web-tweak.png
Gardeners Guild
2016-05-19 23:16:39
2016-05-24 21:53:25
California Lifts State 25% Water Conservation Mandate