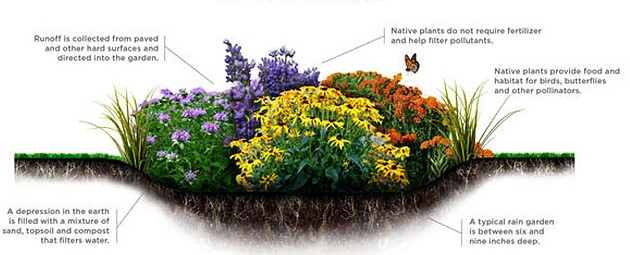 What A Well Maintained Drainage System Has
Indicators for the Northern California rainy season are uncertain. Although we've had heavy rain early in the season, and more is predicted in the next week, none of the long range weather modeling has been conclusive.  We can only hope for a wet winter. 
You can bet that there will be high winds, and heavy downpours this winter.  And, it can do damage and cause flooding if your drainage is not prepared.
What is drainage and why is it important?
When there is heavy rain, water infiltrates into the soil. Once soil becomes saturated and no more water can be absorbed, it begins to pool on the surface.
If the period of saturation is prolonged water will continue to flow into the deeper layers of soil damaging the roots of your plants.
Drainage is a system of removing excess water either from the ground surface or the rootzone.
Surface drainage is removal of water the ground surface
Subsurface drainage is removal of water from the root zone
Your drainage system will protect your building or house from costly water damage and plants from root damage. Have your drainage checked before winter.  Below we drill deeper into methods of drainage.
Soil Drainage

Most plants need soil that drains well.  That refers to soil whose texture is loose enough to allow water to pass through.  The characteristics of clay soil, which is common in the San Francisco Bay Area, are unfortunately, is the opposite. Compacted soil has the same problem. Heavy rain can cause plant decline and rot.  You can observe this problem by its smell – foul odors. By sight – grey, red or orange spots and insects. 
The solution to soil draining problems:
Organic amendments will improve soil structure.  Inorganic amendments like sand can also be added along with other components.  It is best to rely on a professional who can advise the right combination of ingredients.  2" of mulch also can help at least 2" of mulch over the landscaped area around your house or building.  It will help your property absorb rain more safely in addition to cutting down on erosion or immediate runoff.
Grading To Correct Slope

The ground should slope away from your home or building instead of toward it.  Water runs more quickly down a slope, particularly a slope of clay soil.  The soil surface should not be above your foundation.
The solution grading issues:
There are a number of strategies depending on the property. Trimming back landscape overgrowth on a hillside or low lying area is one.  Grading may be required.  This involves directing surface water to the lowest spot on the property which will empty into a drainage ditch, catch basin or well.
Regular Testing of Landscape Drains*
Visually inspect.  Make sure they are all functioning. Leaves, roots and dirt and other matter can easily block a drain causing water to back up.  Storm water runoff from surfaces such as roofs, driveways and patios should be directed into a collection system to avoid flooding.  This will damage plant roots.
If your building or home does not have gutters or drains consider having them installed.
Proper Retaining Walls
If your property is on a slope a retaining wall could be essential erosion protection.  Make sure to hire a knowledgeable professional to understands its proper construction and drainage as well.
*Types of drainage systems

Catch Basin
A surface drain.  It

collects and traps debris in storm drains and prevents it from entering drainage pipes.  
Channel Drains
A surface drain. Long narrow strips used between main structures and paving at the edge of a patio or deck
French Drains
For patios, decks or walkways so that water is sloped toward them or into landscape beds. Drain covers are usually made of metal or stone.
Swales
Shallow trench that carries runoff away from building to municipal drains or ditches.
Rain Gardens
Shallow, bowl shaped depressions that are densely planted with flowers, grasses and other plant material. Rain gardens will collect runoff from gutters, roofs, decks and other surfaces. Water percolates gradually into the soil and is absorbed by the plants. Rain gardens also help prevent ground and surface** water pollution.
https://www.gardenersguild.com/wp-content/uploads/rain-garden-graphic.jpg
255
630
Gardeners Guild
https://www.gardenersguild.com/wp-content/uploads/Gardeners-Guild-logo-web-tweak.png
Gardeners Guild
2016-10-26 22:04:17
2016-10-27 23:41:17
What A Well Maintained Drainage System Has