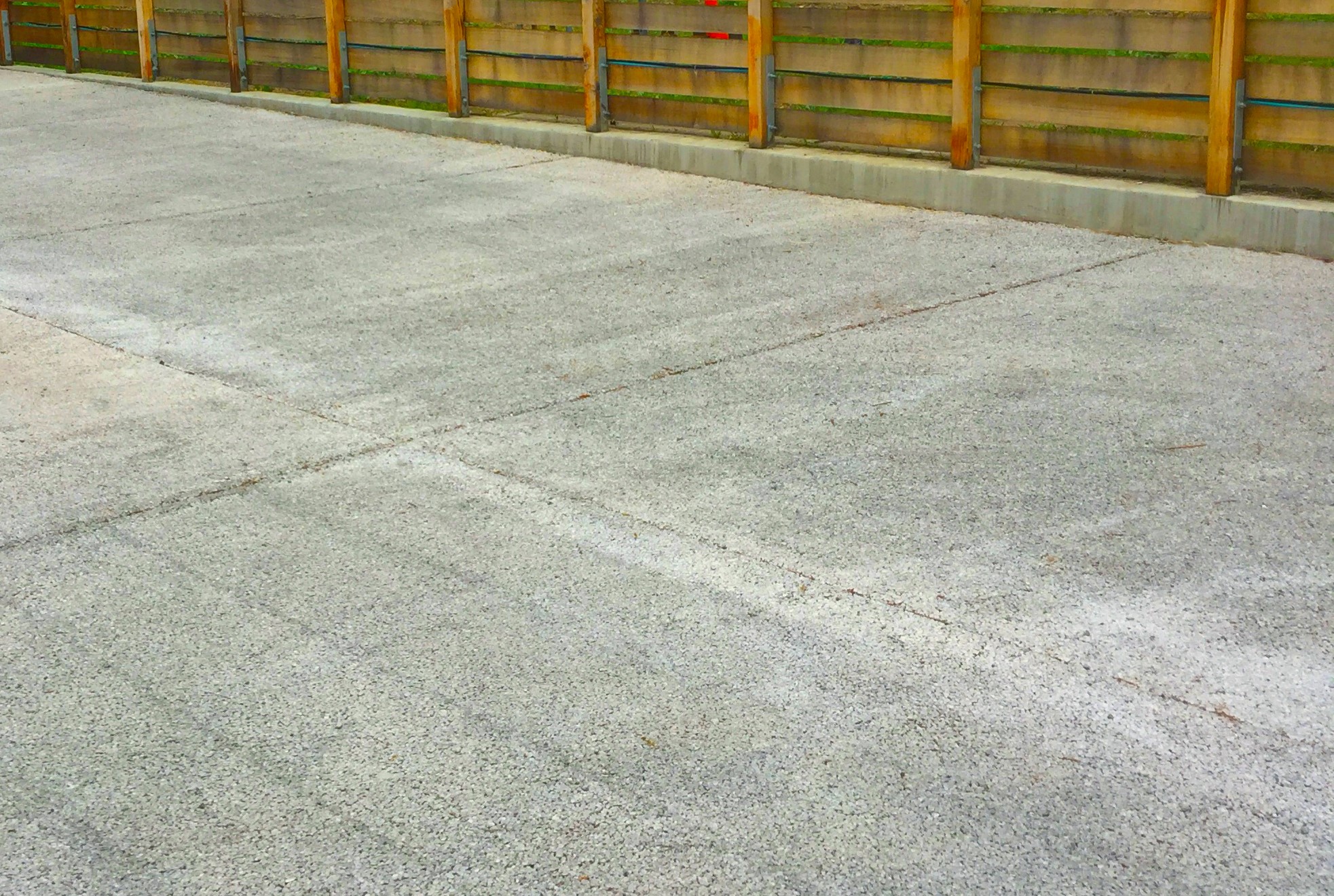 PAVING THAT IS SUSTAINABLE AND SAVES MONEY
It's called pervious (concrete) paving and it's got the attention of an increasing number of designers and property developers.  Why? Because it can save money and it's better for the environment than standard concrete paving.  In fact, it's among the EPA's Best Management Practices.
What it is  An innovative technology that consists of a porous concrete surface used primarily for driveways and parking lots.
What it does

It enables rainwater to drain directly into the soil, naturally filtering it, before running off.  Conventional concrete paving is impervious in which uneven surfaces cause puddling and storm water pollution.  See illustration below.
Properties of Pervious Paving

Water, cement material, with little or no sand,  together forms a paste that is applied to crushed stone. The result is a highly porous surface.  Illustration on the right shows the difference between pervious paving and conventional.
The Benefits
Saves Money

Due to its superior durability, strength and long life span

Property developers and managers spend fewer dollars on stormwater management systems and irrigation systems

Can also minimize sewer system usage and avoid municipal stormwater impact fees
Environmental Benefits

Recharges groundwater

Reduces stormwater runoff;

Water filtering treatment; can infiltrate 70%-80% of annual rainfall.

Low impact development

LEED credits – see below
LEED Credits Available for Pervious Paving
Pervious paving (also referred to as porous paving, pervious concrete) satisfies several LEED categories including: water efficiency, materials and resources and innovation in design. 

There are specific credits that apply.  Below is a few.  Please ask Gardeners' Guild for more information and see below for our pervious paving project in Oakland.
LEED Credit SS-C7.1 – Heat Island Effect – Non-Roof

LEED Credit WE C1.1 Water Efficient Landscaping

LEED Credits MR-C4.1 and MR-C4.2 Recycled Content
Oakland Cemetery Elects Pervious Paving



I drove out to Mountain View Cemetery last week to take some photos of a porous paving project Gardeners' Guild completed about six months ago.  I took some photos and spoke to Craig Nuchols, the Building and Grounds Supervisor.  He graciously gave me access to the parking lot, newly paved with the porous concrete material.  I asked him what he thought.  He was pleased with the results.  "It's doing the job its supposed to do", he said.  The heavy rains this past season was the best way to test their investment.  Unlike impervious concrete in which rain puddles in cracks and any uneven surface, the rainfall neatly percolated through. 
See more photos of our construction work

https://www.gardenersguild.com/wp-content/uploads/MtnVuPervPv2.jpg
1320
1965
Gardeners Guild
https://www.gardenersguild.com/wp-content/uploads/Gardeners-Guild-logo-web-tweak.png
Gardeners Guild
2016-05-11 22:05:54
2016-05-11 22:12:49
PAVING THAT IS SUSTAINABLE AND SAVES MONEY