Print out and use our free downloadable landscaping guide for the year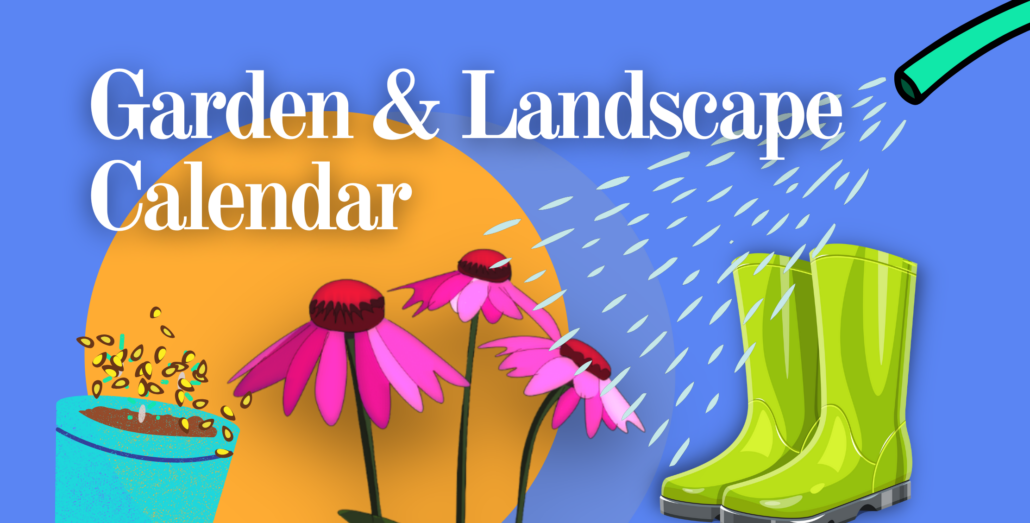 Our downloadable landscape activities guide for the year
We're featuring a downloadable infographic/calendar of landscape activities in response to the requests of many of our clients. (See link below). Broken out by month, we recommend three to five seasonal activities for each. Check out our sample activities for the first quarter of the year.

Dormant sprays for deciduous trees
This is the time of year to protect deciduous trees from pests and diseases. Dormant sprays are oil sprays used for ornamental, fruit, and nut trees. They protect them from a host of pests. See the UCANR bulletin for a more in-depth description.
Cover plants that are sensitive to frost
Citrus, geraniums, bougainvillea, fuchsias, and succulents are tender plants. Ice crystals form on plants blocking them from moisture access. UC Master Gardeners say a plant will suffer when the temperature falls below 25 degrees.
Protect your plants with sheets, drop cloths or blankets. Keep plastic from touching leaves by using stakes.
Plant roses and dormant fruit trees
Planting this early gives them a head start!
Winter season color rotations
Violas, primroses pansies offer vibrant winter colors.

Structural tree pruning
While deciduous trees are dormant, this pruning will help improve your tree's structure and health. How you prune will direct their growth. Make sure you remove any damaged or diseased branches.
Rose pruning
January and February are good months for Rose pruning.
Landscape planning and design work
It's a good time of year to do planning for any landscape improvements that include new plants or removing plants that have outlived their lifespan and are taking precious water from others.
Manage invasive weeds
Get a head start on the removal of these pernicious weeds. Many can be removed manually. Check out previous posts on them.

Irrigation system diagnostic and repair
Prepare for spring by making sure your system is working efficiently. Check for leaks or clogs.
Deep root fertilization
For trees and shrubs.
Fruit tree pruning
Continue pruning fruit trees to reinforce their structure and to allow light throughout, ensuring fruit production. UC has an informative article about best practices.
Feed citrus trees with granular fertilizer
Apply by the tree roots and make sure it is mixed into the soil.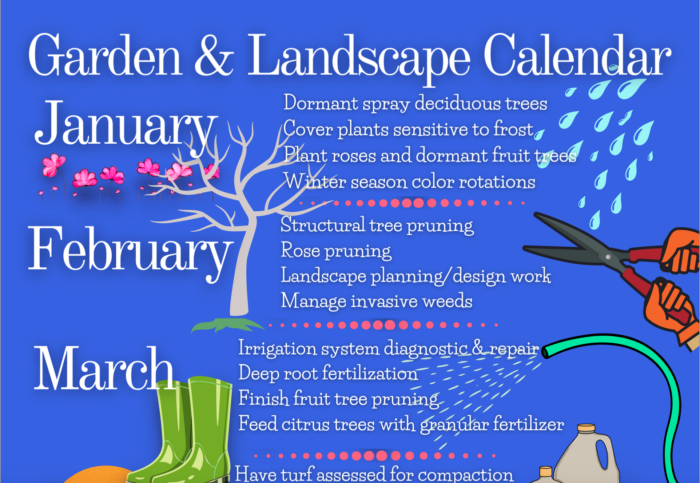 https://www.gardenersguild.com/wp-content/uploads/LandscCalendarHeader.png
1129
2224
Gardeners Guild
https://www.gardenersguild.com/wp-content/uploads/Gardeners-Guild-logo-web-tweak.png
Gardeners Guild
2023-01-31 21:11:01
2023-01-31 21:12:59
Print out and use our free downloadable landscaping guide for the year