SF Bay Area: Essential Actions to Prepare for Wildfire
Four Essential Actions for Wildfire Preparation

Plus the Secret Ingredient to Effective Preparation
Wind and warmer weather underlines the threat of wildfire for the rest of October. This month is usually the worst, but if warming conditions prevail, "wildfire risk could rise again before winter rains arrive in earnest," says Weatherwest.com.
Preparing for wildfire is a combination of prevention (a longer-term solution) and short-term preparation.
Below are four essential short-term actions you can take now.
They will minimize the risk to you and your home.
I have first-hand knowledge of wildfire preparation and prevention.
Living in a North Bay community designated as "at risk" for wildfire, I am well versed in both prevention and preparation. The unnerving "Red Flag" warnings from Nixle (learn about them below) reminds us to stay focused on safety. We are a proactive group. And, so far, we've been fortunate.

Following FireSafe Marin guidelines, our neighborhood works together trimming trees, scheduling fire department consultations and following their recommended activities.
This coming weekend is our second "chipper day." Funded by a grant, our Fire Department will send out a chipper and crew to dispose of the trimmings from cut trees and shrubs. Hand-made signs posted throughout our neighborhood are friendly reminders for taking action.
I believe that what has made us successful (the secret ingredient) is teamwork. Working together with a common goal of fighting danger. As a group we've been more effective than as individuals.
The four activities below are the essentials of what you can do now. There is also an evacuation checklist you can use.

Preparation
Sign up for Emergency Notifications
If you haven't already, sign up now.
Nixle
It will alert you to any emergency events and evacuations in your area. You will also receive non-emergency alerts about local criminal activity. Those messages can be annoying, but trust me, Nixle is an invaluable system.
County Notification
This link from ABC7 news will direct you to where and how to sign up for your county.
Your county may give you options, i.e., text, phone or VOIP, on how messages may be received.

Decoding alert messages

Evacuation order: Means evacuate now do not delay to gather belongings. Fire expected in less than an hour.
Evacuation warning: Evacuate soon, but there is time to gather belongings quickly.
Shelter in place: It is safer to stay in your current location.
Preparation
What to know – Resources

Know your neighborhood escape route. Work with family and neighbors if applicable.
Make copies of important documents like passports, insurance policies, birth certificates. Then put them in a safe deposit box.
Fire Department Risk Assessment Request a visit your local Fire Department representative for a free vegetation management inspection.
Cal Fire has a comprehensive brochure and checklists

Preparation
Pack a "Go Bag" Put it in your Vehicle*
What to pack and where to find items you will need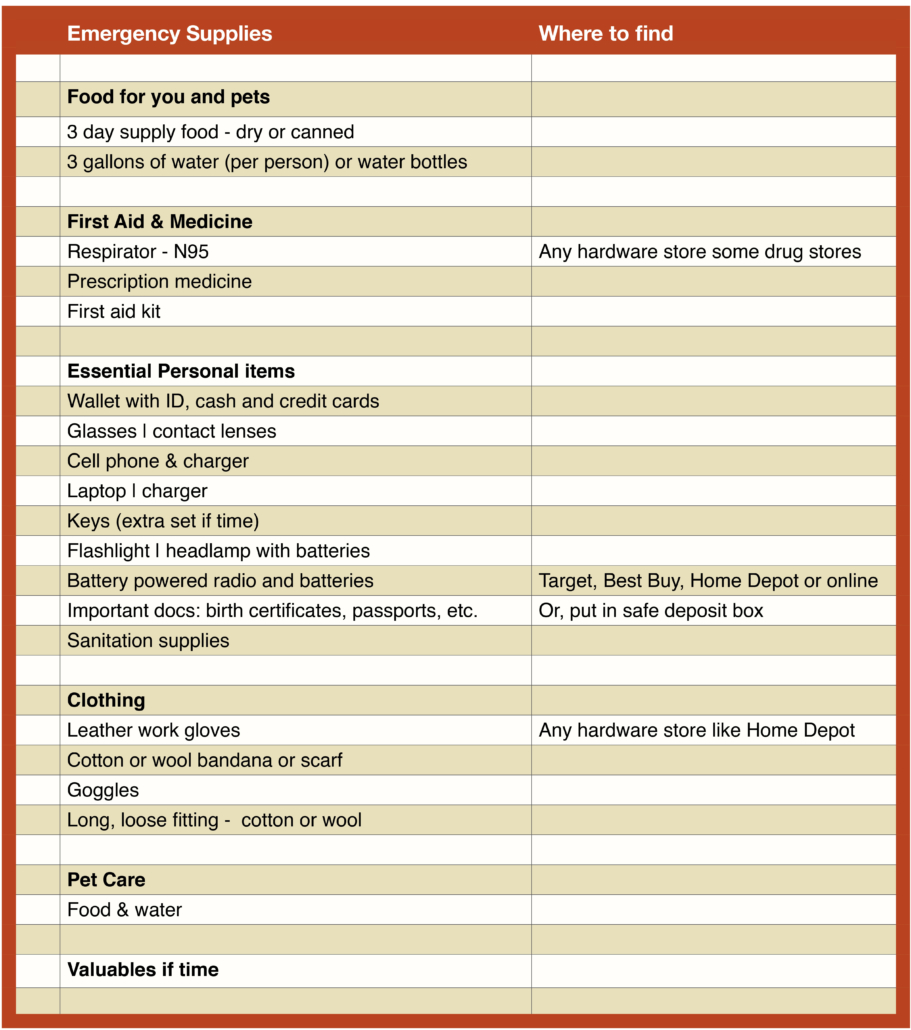 *This list was adapted from FireSafe Marin. They also have a comprehensive checklist.

Preparation
Where to Purchase Disaster Supplies
If you are looking for reviews and advice on where to purchase disaster supplies, the list below can help.

Wirecutter, which is a New York Times Company has much information about where to purchase, costs and what is in pre-assembled kits.
Aside from the above, there are local big box stores where you can purchase emergency supplies.
Prepare
Outside Debris Removal

Clear your roof
Remove dead leaves and debris from your roof and gutters
Keep branches 10 feet from your chimney
Cover your chimney outlet and stovepipe with a nonflammable screen of 1/2″ mesh
Landscape and Debris Cleaning
Remove all debris, i.e., fallen leaves, dead plants, construction materials away from structures
Stack woodpiles at least 30 feet from structures
Move liquefied petroleum gas containers to a minimum of 10 feet from structures
Create a Defensible Space (See detailed version for more information)
The law requires every home have a 100-foot defensible space around it
Zone 1-up to 30 feet
Remove all dead plants, grass, and leaves.
Remove dead dry leaves; pine needles from rain gutters and roof.
Remove tree branches from your chimney, and the ones that are hanging over your roof.
Zone 2 – up to 100 feet
The remaining 70 feet should be a "reduced fuel zone."
Cut or mow grass to a maximum height of 4 inches.
Create horizontal space between shrubs and trees.
Create vertical spacing between shrubs and trees.
Keep plants well hydrated.
How to Use Equipment Properly
Mow grass before 10 am.
A string trimmer is safer for clearing vegetation than a mower.
Never on Red Flag days or when it is windy, hot and dry.
Spark arrestors* should be installed on all portable, gas-powered equipment.
*A spark arrestor prevents the emission of flammable debris.

The Difference a Team Makes

Our community's "at risk" status didn't register when I bought my house nine years ago. The only inkling about our prospects was a faded road sign that said "Keep up Your Fire Safety Efforts" and a neighbor's stray comment that we "have fire drills every other year or so".
Then came October 2017. The Napa fire. Santa Rosa. And, a couple of terrifyingly close-call fires on Highway 37. A harbinger of summers to follow. I felt scared; powerless over the whims of a warming climate. Then I discovered working with my neighbors. Planning and talking about solutions to minimize risk, as a group, changed my perception of the potential dangers. Though I have no control over climate conditions, I feel safer now. Ultimately, battling Mother Nature as a team made a difference.

Sources for this article



Cal Fire
Fire Safe Marin
Firewise USA
Additional Resources, checklists, graphics
Cal Fire Homeowners Checklist (short and long-term strategies)
https://www.gardenersguild.com/wp-content/uploads/Oct17-2017BlackptFireSunset.jpg
1440
3264
Gardeners Guild
https://www.gardenersguild.com/wp-content/uploads/Gardeners-Guild-logo-web-tweak.png
Gardeners Guild
2018-10-17 16:34:14
2018-10-17 17:47:32
SF Bay Area: Essential Actions to Prepare for Wildfire