Spring Irrigation System Startup. What a Pro Sees That You Can't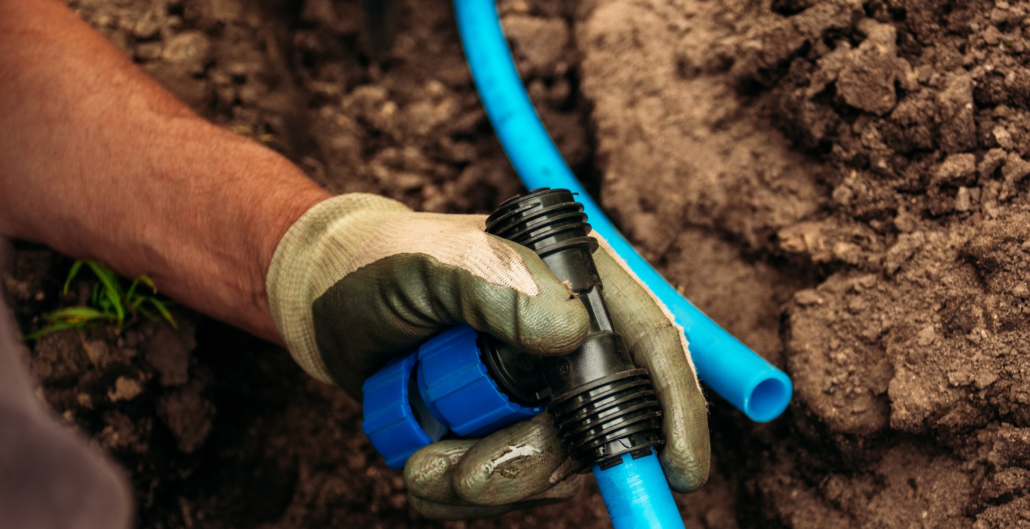 Time to turn your irrigation system on again
Coming up for air after one monstrous storm after another. And now it's spring. Your plants have had a good drenching for months. But suddenly, it's heating up outside, and it's time to check and see if your irrigation system still works.
The damage from our record-breaking winter could have also touched your irrigation system. For that reason, hire a professional to restart your irrigation system in spring.
This month
We explain why an irrigation tech, not you, should look at your system.
Why your system may need some extra special care this spring.
What happens in a spring irrigation startup?
Find out if you have had damage.
An unforgettable winter we've had. Wind speeds over seventy miles an hour! Flooding everywhere. Trees fell on cars. Your irrigation system may need some extra special care this spring. Soil erosion can damage irrigation components. Metal pipes can become corroded. Flooding can damage underground pipes. Also, common—clogs from debris.
Here's the thing. You won't necessarily notice the damage. It's why a professional is your best bet for restarting your system.
What a professional can see that you can't
Some irrigation problems are invisible to the naked eye. But they're significant just the same. They could reduce water flow, pressure, and many other things. Water waste is not an option.
What a professional has
Expertise.
Irrigation systems are complicated, and their training is specialized. An Irrigation Tech (at least ours) is trained to identify problems that may not be apparent to you. Being trained, they can determine how much water a plant needs to thrive. They know soil types, plants, weather, and their impact on plants. Most importantly, they know how to maintain, inspect, repair, and install most irrigation systems.
To make a finer point, they know how to make your system work efficiently.
Hidden stuff they can spot that you can't
Hidden leaks.
Your system could have them. An Irrigation tech is trained in their detection. They're equipped with tools for that purpose.
Places where leaks can occur and won't be visible to the untrained eye:
Underground pipes.
Seals around sprinkler heads.
Valve boxes can have leaks around the body or its stem and are hard to see.
Connection points between pipes, valves, and sprinkler heads can leak from overuse.
Electrical problems.
With your controller. They can diagnose and repair this problem which will downgrade your system's performance.
Water pressure.
A water pressure gauge is a handy tool that your tech can use to test your system.
System design problems.
Sometimes design deficiencies can explain why a system isn't performing efficiently.
What Happens in a Spring Irrigation Startup?
7 things are typically done in an irrigation startup for spring.
1. Turn on the system visually check for leaks
2. Check valves

An essential part of your irrigation system. Leaky valve repairs are tricky as they involve electricity and water. An Irrigation Tech will check each valve to ensure it operates correctly.
3. Test sprinkler nozzles and heads
This is a check for alignment and even water distribution.
Occasionally,  a wire in an underground system gets cut from digging up a root.
4. Test the drip system.
Checking for efficient water delivery and any clogs in emitters or tubing. Drip irrigation is efficient for water delivery—depending on the circumstances. But sometimes problems do occur. Usually, it is clogged emitters. Sometimes leaks in tubing, fittings, or emitters.
5. Check the irrigation controller
The brains of your system. It needs to be programmed correctly.
6. Pressure check

Too much pressure can result in cracked pipes, valves, sprinkler head leaks, or heavy misting. Leading to—inefficient watering.
7. Recommendations such as:
Once the check is complete, the Irrigation Tech will submit a report that lists the condition of the various components of your system. It may include recommendations for upgrades or repairs. The goal—is a system that operates optimally, saving water and maintaining the health of your plants.
Closing thoughts
Your irrigation needs regular maintenance, like a refrigerator, washer, or car. To stay healthy, plants need to have the right amount of water. Not too much. Nor too little.
That leads to the main point of our post.
We live in a new water reality. Regardless of scientific knowledge, meteorologists can no longer predict if we will have sufficient rain in the winter. Daniel Swain, whose blog I read, suggests we are headed for El Niño. But even he says there's no guarantee what that weather event will look like.
Water and its efficient use must be our mantra these days. If we use irrigation, have a professional inspect it regularly to ensure it runs efficiently.
https://www.gardenersguild.com/wp-content/uploads/Spring-irrig-startup.png
1145
2228
Gardeners Guild
https://www.gardenersguild.com/wp-content/uploads/Gardeners-Guild-logo-web-tweak.png
Gardeners Guild
2023-04-12 23:18:09
2023-04-12 23:22:22
Spring Irrigation System Startup. What a Pro Sees That You Can't