Fix drainage problems before they damage your building's foundation
Fixing drainage problems in the San Francisco Bay Area — 4 Common Problems and how to fix them
The San Francisco Bay Area is in shock. Many of us are racing against time to secure our properties temporarily before the next monster storm hits. Downed trees, flooding, building damage, and the loss of homes and human life.
In response to requests to solve drainage problems, I've noticed what these issues have in common. I reworked a post from over five years ago with 4 examples of common drainage problems that we hear about. Fixing many of them can be done even in between rainstorms.
Problem 1: Hardscape with standing water
This includes patios, pavers, driveways, parking lots, and steps. If your hardscape has had standing water for some time, it could be due to these issues:
Improper grading
If you notice uneven areas, it could be that your landscape wasn't properly graded.
It could be directing water to your building's foundation.
Blocked or improperly installed drains
Leaves, roots, and debris can cause drain pipes to back up. Over time it will accumulate and cause flooding on your property.  Flooding could also result from an improperly installed drain or one installed in the wrong place.

Your building's foundation is at risk, a drainage problem is not resolved.
It can also damage your hardscape.

Re-grading is one solution. It's the process of leveling the land to redirect water.
A plumber can clear clogged drain pipes using a drain snake. They should be maintained regularly, and you can do it by inspecting and regularly opening the grate to remove leaves, twigs, and debris by hand. There are also catch basin filters sold as an additional option you can install to keep debris out of the drain pipe.  Debris will still need to be removed from that.
Retaining wall. This is an option if you have a slope and are at risk of erosion.
Problem 2: Flooding in turf
It can be improper grading.
Or, more likely, it's compacted soil.
Previous drought conditions are a big factor.
Soil pores that normally absorb moisture and nutrients shrink due to a drought. Its surface feels rock-solid. Because it can't absorb moisture, the water will instead run off. Along with it, a host of pollutants.
See a compacted soil example below.
To allow water to penetrate, the soil texture should be crumbly. Clay soil, as in the Bay Area, tends toward compaction.

Losing plant material. Water will pool on top, and your lawn will be a soggy mess. The roots will rot. Its foul odor and gray, red, and orange spots and insects are signs of rotted roots.

Re-grading can help.
Aeration is a great solution. It perforates the soil by opening its pores, allowing nutrients and moisture in.
Dry creek beds are also a good solution. See the example below.
Problem 3: Planter beds and all planted areas
Any planted area, including planter beds, should be designed to allow water to flow toward the lowest areas. It may not have been sloped correctly if you see water pooling in the landscape or bed after a rainstorm.

Soil is considered saturated when its ability to absorb moisture is tapped out. Plant root damage will occur if the soil is saturated for a prolonged period.
See the example below.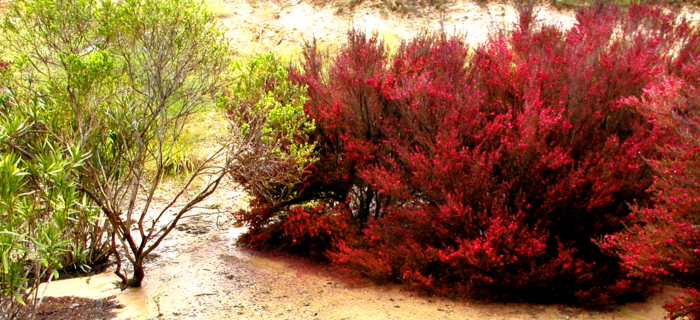 The solutions listed here can apply to any planted area. Flat, sloped, or planter bed. First, know where the water is pooling from.
To improve drainage in a planter bed, elevating it could make a difference.
Heavy clay soil could be a reason for standing water in any planted area (in the SF Bay Area).  Adding organic amendments like loamy topsoil, compost, worm castings, and/or bark mulch could help loosen the soil and facilitate drainage.
Grading can help correct a slope problem by re-directing water to the lowest part of the bed or landscape into a drainage ditch or catch basin.
Problem 4: Downspouts and gutters
A common problem. Our people check them first on any site visit for a drainage concern.  If they aren't properly installed, and the gutters overflow, the runoff from a storm will pool at the building's foundation.

Your structure's foundation and plant material could be at risk.

Hire a professional to re-direct the downspouts so water goes away from the building and gets evenly dispersed throughout
Types of drainage solutions to consider
Our previous post has descriptions of each of the drains listed below.
French drains
Catch basin or storm drain
Bioswales
Channel drain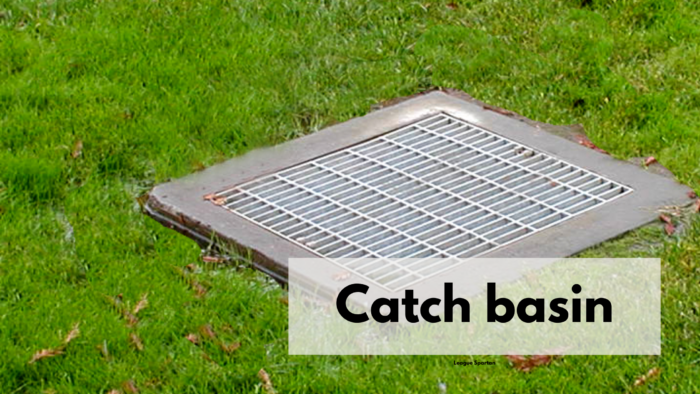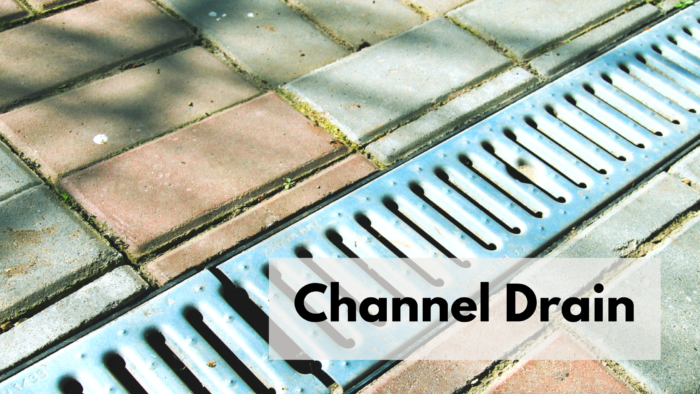 Closing thoughts
Before re-writing this post, I talked with our in-house Landscape Architect about the topic. Drainage is his wheelhouse, and he is animated about all facets of it.
I was surprised when he commented that many contractors don't want anything to do with this work.
He has advice for anyone with drainage problems.
"Call us right away while the weather is happening." It's the best way for us to assess the problem. "Take a picture," he added.
A photo is a vital record for you and good for us to see first-hand.
Stay safe.
https://www.gardenersguild.com/wp-content/uploads/Flooded-Turf.png
830
1700
Gardeners Guild
https://www.gardenersguild.com/wp-content/uploads/Gardeners-Guild-logo-web-tweak.png
Gardeners Guild
2023-01-11 17:46:22
2023-01-11 19:46:46
Fix drainage problems before they damage your building's foundation