Don't Wait: 5 expert endorsed actions to keep your property safe this winter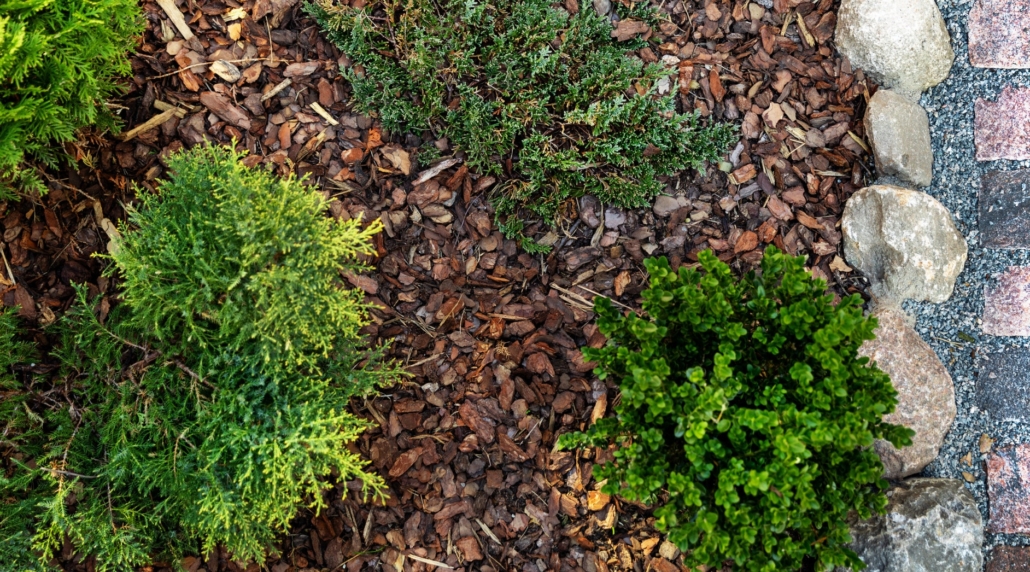 Keeping your property safe this winter takes preparation — for the winter rainy season and next spring. It's essential, particularly for this upcoming winter. If the prognosticators are correct, a record-breaking rainy season could wreak havoc, courtesy of El Niño.
Stay safe. Review our 5 expert-endorsed actions listed in order of priority.
Plus, an illustrated guide to the 6 common types of mulch. Below.
1. Be fire-safe
Although we're at the tail-end of this year's fire season, don't let down your guard yet.
Keep grasses mowed and trim shrubs — away from structures.
Do a property cleanup. Remove dry, dead, and flammable debris. Put them in your compost pile or green bin for pickup. Any diseased plants go directly into the trash.
Cut vegetation 15 to 20 feet away from structures.
Sign up to receive emergency alerts.
Nixle Text 888777 and, input your zip code, press send.
PG&E — receive alerts by signing into your online account
AlertSF
AlertSonoma
Alert Marin
Alert Contra Costa
Download the FEMA app for real-time alerts in your area.
AlertTheBay.org (for the entire Bay Area)
2. Prepare for rain!
A U-turn from the above. Now let's talk heavy rain. The last thing you need is water pooling in the landscape or around your building's foundation. The list below will protect your plants, hardscape, and house/building.
How to prevent flooding in the landscape

Drainage
Whether your property is on a slope or is flat. Ensure turf, planted, or paved areas have sufficient and functional drainage. If not, several options exist, including grading and different drainage solutions. See our blog from last year.
Erosion Prevention
If you are on a slope or hillside, there are two solutions. A retaining wall and/or plants with deep roots. It's a good time to plant. See our previous blog on erosion.
Downspout diverters
They can help disperse runoff more widely into the soil. Even better — direct water toward landscape trees and plants.
3. Prune deciduous trees and shrubs
Pruning to remove dead, diseased, or damaged branches. UCANR calls them the three Ds. This can be done at any time during the year. It's also a good time to prune salvias, penstemons, butterfly bush, California fuchsia, and other summer-blooming perennials.
How to remove damaged or diseased branches?
Marin Master Gardeners advises cutting at least 8 to 12 inches below the diseased portion at a branch junction or just below a bud. Do not dispose of the diseased wood in your compost or green waste can. (It goes in the trash.)
Fall is also a good time to schedule an inspection for large trees. They should be inspected annually.
4. Mulch
Mulch is attractive. It helps protect the soil from extreme temperatures, suppresses weeds, and holds moisture. Organic mulch adds nutrients to the soil. Make sure to keep wood mulches 30 feet away from structures, however. Because of the proliferation of wildfires, I notice more people are using stones and gravel instead of wood mulches. Wood is safe as long as it isn't close to a building. You may want to talk to your local fire department for suggestions if you are in a WUI (Wildland Urban Interface).
6 Common Types of Mulch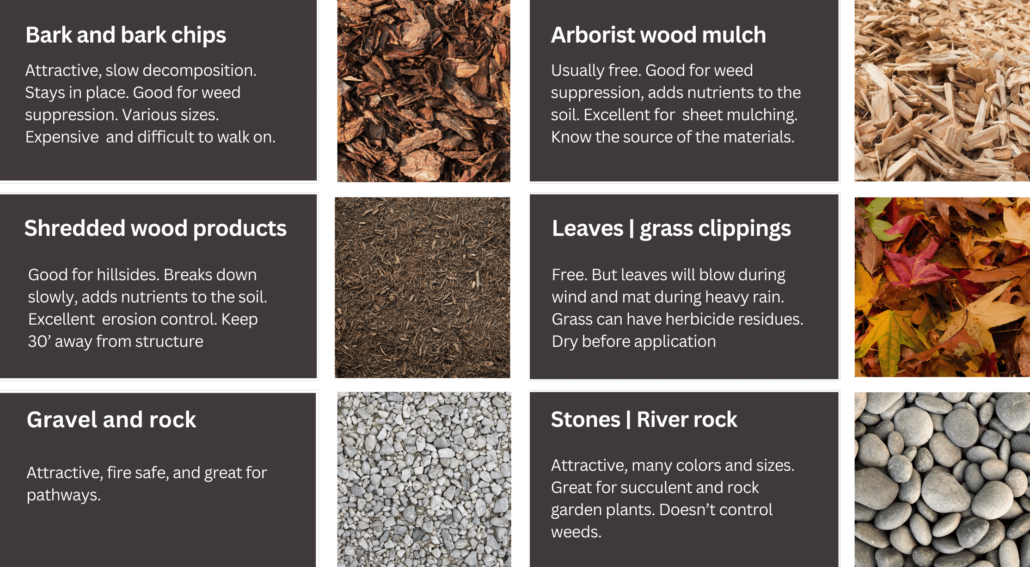 5. Irrigation
Recent heatwaves aside, a cooling trend has taken hold. There are fewer hours of sunlight. Your plants need less water. It's time to adjust watering schedules. Depending on the weather, you may need to adjust back and forth for a few weeks.
One caveat. Do you have any newly installed plants? If so, they need regular irrigation until they are established.
Closing Thoughts
Undoubtedly, you have much more on your plate besides potential weather impacts.
We aim to provide content that helps you navigate our increasingly erratic climate patterns. This post focuses on the landscape, but your house or building may also need work to protect it from potential damage from atmospheric rivers.
Contact us at (510) 439-3700 with questions about your landscape and how to prepare for the rainy season.
https://www.gardenersguild.com/wp-content/uploads/MulchOverview10-23.jpg
1046
1884
Gardeners Guild
https://www.gardenersguild.com/wp-content/uploads/Gardeners-Guild-logo-web-tweak.png
Gardeners Guild
2023-10-11 17:17:10
2023-10-18 17:55:49
Don't Wait: 5 expert endorsed actions to keep your property safe this winter