5 Trends for Commercial & Home Gardens in 2019
Primary Landscape Trends for 2019

We notice some landscape trends return year after year. They remain on the list because their popularity is still soaring. Like edible and community gardens. These two are big – and encouraging.
More people are embracing plants – indoors and out. Millennials are spending a lot of money on plants. And, Generation Z – loves them! Gardens that save water, benefit the environment, are low maintenance and – gardens that heal and feed. They are everywhere. Not just in the west.

Healing Gardens

More hospitals and institutions are incorporating gardens. Since we know that gardens can heal the mind and,the body, Horticultural therapy is a increasingly recognized profession.
How plants help in institutional settings.

Alzheimers and dementia patients

Patients with mental illness

Improves hormonal balance

Decreases violence by 19%

Interior Plants are More Popular Than Ever

From Garden Media's annual report.
Pinterest searches for indoor plants are up 90 percent. National Gardening Association found that 30 percent of all households bought at least one hourplant last year. Millennials are driving this trend – they represent 31 percent of houseplant sales.
People who spend a lot of time indoors behind a screen are craving nature. Bringing the outdoors in – is a no-brainer. One organization in New Zealand has identified how apartment dwellers are using plants in their homes. Putting "masses of indoor plants on modular shelves." Aranged for easy maintenance. At home they are not using living walls – too high maintenance.
A partial list of indoor plants with the best air cleaning attributes (according to NASA)*
Boston Fern

Bamboo Palm

Agloenema

Sansevieria

Ficus Benjamina

Anthuriums

Spathiphyllum

Dracaenas (Marginata and Massangeana)

Pothos
See our website for photos of the above plants and others we use in our service.
*Bill Wolverton, former NASA research scientist who conducted the 1989 plant study favors golden pothos. He suggests placing two good sized plants per 100 feet of interior space. He reminds us that they make people feel happier, reduce stress, improve mood and energy levels.
​
Office Building Trends
Sustainable design and bringing nature inside was once a new trend. Now these concepts are the standard and essential for attracting talent.
It's called "Biophilic design". Designers also integrate views, natural lighting and climate to mirror the outdoor environment.
One study by Harvard University found that –
In a strategically designed green office, employees had on average 61% higher cognitive function
than their non-green counterparts.
Big picture, sustainable buildings are just one aspect of what is called – healthy buildings. Spaces are being designed with the employees' well being in mind.
One example is relaxation or quiet spaces, featuring soft and comfortable seating; mini fridges.
Community Gardens
The Trust for Public Land says this trend has grown 44% since 2012. 22% since last year. Most community gardens grow edible plants. The biggest way they make a difference is by providing low cost healthy food for underserved communities. It's hard to envision living in an area without a major grocery store – independent or chain. But, that is a reality in Richmond.
Verde Elementary is a small school at the end of a quiet street in Richmond. It has one of the oldest organic school gardens in California. Urban tilth managed it for eight years. It is a food source for the students and the North Richmond community. The program includes teaching students about health and nutrition plus, it gives them the experience of tending a garden.
There are many community gardens throughout the bay area. Below is a partial list.
Other East Bay community gardens
El Cerrito has Pacific Oaks Community Garden
Hercules Sustainable Community Garden
Rodgers Ranch Community Garden – Pleasant Hill. This garden rents different sized spaces for an annual fee.
San Francisco community gardens
Potrero Hill Community Gardens
TNDC Tenderloin People's Garden
Climate Resilient Gardens – where nature and technology merge
As the conversation about climate change goes mainstream, a broader swath of the population are realizing they can help make a difference – in their own gardening practices.

The term resilience – is being used by Gensler (architecture and design firm). It's in the context of – urban centers and their potential to become part of the solution. Now individuals are taking more responsibility by embracing gardens that enhance biodiversity.

Wildlife Gardens
Gardens are trending toward a less manicured look in favor of a more natural appearance.
Nativesare more popular.
Adding plants that attract butterflies and other pollinators.
Low maintenancea gardens.
Edible gardens have become wildly popular.

And, water. We can no longer take it for granted. Drought tolerant plants are the standard.

Garden Technology
Irrigation technology, including weather-based irrigation timers, (controllers) has exploded in popularity. This relieves the busy homeowner from having to remember to water. And, it is more effective. We list the names of SF Bay area water districts offering rebates for some of these products.
Soil moisture sensors help by measuring the amount of moisture in soil.
Plant ID/Gardening apps are proliferating. However, I have yet to find a good one.
Brand new!
Robotic weeders. Solar powered. It can weed whack for up to three hours. (This is all we know at this time).
Robotic pollinators. They are being tested. Results show they have been successful in flowers.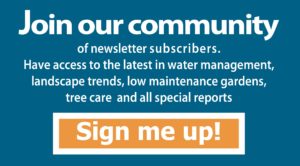 https://www.gardenersguild.com/wp-content/uploads/WaldoPlantsMulch3.jpg
2004
4128
Gardeners Guild
https://www.gardenersguild.com/wp-content/uploads/Gardeners-Guild-logo-web-tweak.png
Gardeners Guild
2019-03-15 20:14:40
2019-03-15 20:15:49
5 Trends for Commercial & Home Gardens in 2019