How Employees Will Change the Post-Pandemic Workplace
---
Employees want more nature in the workplace



How do employees envision the post-pandemic workplace? I've combed the web to find out. Studies have been trickling in – starting last year. This post is a compilation from a myriad of sources. A trend is taking shape. Nature is a common denominator.
A note about the process. I've mined data from actual research and expert sources, rather than just opinion.
In broad terms, workers want to feel safe, see their co-workers and have an adequate work-life balance. A pesky fly in the ointment – most employees really liked working from home. You could say they are torn – enjoying the comforts of home yet missing the comradery of the office.
It looks like the best of both worlds is a hybrid work schedule. (building in the flexibility to work remotely as needed or on a schedule). Most importantly, employees will be driving this change in the workplace, because companies recognize that their success relies on attracting and maintaining talent.
What's in this post.
The verdict on the post-pandemic office
What the experts say
How and where to incorporate nature in your workspace
Employees liked working remotely



Comfort, access to nature, fresh air, natural light, and soft lines; shapes.

Greenery inside and outside. In fact, employees felt they had a healthier lifestyle. In a survey conducted by Morning Consult, 40 percent said they spent more time outdoors.
An NPR story on the post-pandemic office underscores this idea.
A panel of five experts assembled for the story evoked the same theme. For an office building to be healthy, it is essential for employees to be in contact with nature. They recommended strategies such as living walls instead of partitions as room dividers. They cited the term biophilic design (bringing nature indoors) as boosting productivity and overall well-being. The panel also discussed using natural construction materials – further connecting the office to nature.
A white paper published by an organization called Silverado Roundtable and distributed via their website and collaborating green industry organizations is a compelling read. Compiling research from architects, architects, social scientists, and psychologists. The paper offers an engaging rationale for the post-pandemic workspace to be reinvented and more aligned with nature.
---
A Healthy Workplace is a Necessity



Quotes from the report
"The American office building has to really confront what's been done in Netherlands and Germany: office space requires high volumes of fresh air. Natural light. We know plants work in an office, but they also purify the air."
"A healthy workplace used to be perceived as a benefit; now it is a necessity. Access to fresh air, light, nature, and any other option to give employees the confidence their work environment is as safe as it can be, will be the primary driver in a return-to-work strategy. Access to nature is increasingly critical for employee mental health and overall wellbeing."
What the Experts Say




---
A great article – it explores the trend of employees' desire to be connected to nature. It suggests that merging the outdoors with interior workspaces will enhance their experience. As employers are challenged to attract workers back to the office, they need to recognize that preference.

---
Gensler is a global design and architecture firm. Their research found "people are expecting health and wellness to be built into everything."
A 2019 workplace survey found that employers are "facing mounting pressure to synergize indoor and outdoor spaces, nudge healthy behaviors, and support a sense of psychological well-being". This is in part because working from home (a trend even before COVID) has provided easier access to the outdoors and nurtured their need for a healthy lifestyle which is increasingly important to them.
---
No, this is not a typo. The term cropped up in the last year, describes an emerging trend. It's an interior design approach incorporating home-like comforts to an office. Architectural Design firm, Planforce describes resimercial design as having three aspects. One is natural elements. Elaborated in their March blog post. "The fancy term is biophilic design, but it really just means embracing more plants or elements that are reminiscent of nature."
Healthy, Relaxed, and Green
All the above quotes and links to articles about the trend toward merging the outdoors with the indoors have been building for several years. COVID brought this to the forefront. Employees' message is loud and clear. They want a workplace that reflects their values – healthy, more relaxed, and aligned with nature.
One Example
---
Big tech has always known that a big part of attracting and retaining talent is providing a workplace more integrated with nature.
Amazon's (not surprising) building features three giant glass domes called "The Spheres". Growing inside are 40,000 plants. A profile in Seattle "Curbed" features a giant photo (I bet their employees never go home).
How to incorporate plants in your office



Their legions of benefits are well documented. (Stress reduction, cognitive improvement; enhanced creativity, and mood).
Good Earth, a Southern California Plant Company has great ideas for where to position plants in your office. Some of them are listed below.
At the entrance for a welcoming, friendly first impression.
If you have a lobby or reception desk, put plants on the security guard desk. Rotated color – meaning Orchids or Bromeliads are especially pretty for their color and texture.
Concentrate plant displays where they are visible to employees who do much of the work.
Use plants as dividers to separate work areas. (Regardless of social distancing).
Living walls.
In restrooms and break rooms.
Positioning larger plant pots, in multiple locations in the edges and corners of a room has a great positive benefit and softens hard lines.
---
Looking for more plant ideas?



Look through our catalog of plants
They are color-coded based on their light requirements.
Plants with the highest air cleaning properties are marked.
There are many factors to consider, size, whether they are a table or floor plant.
Do they grow upright and narrow?
Or short and wide?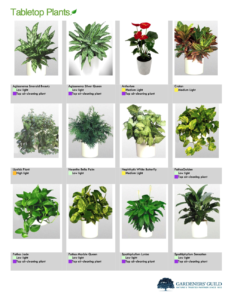 ---

https://www.gardenersguild.com/wp-content/uploads/Wareham-compressed-scaled.jpg
1282
2560
Gardeners Guild
https://www.gardenersguild.com/wp-content/uploads/Gardeners-Guild-logo-web-tweak.png
Gardeners Guild
2021-07-15 22:06:38
2021-07-21 02:57:49
How Employees Will Change the Post-Pandemic Workplace