Want employees back in the office? Don't ignore these science-backed trends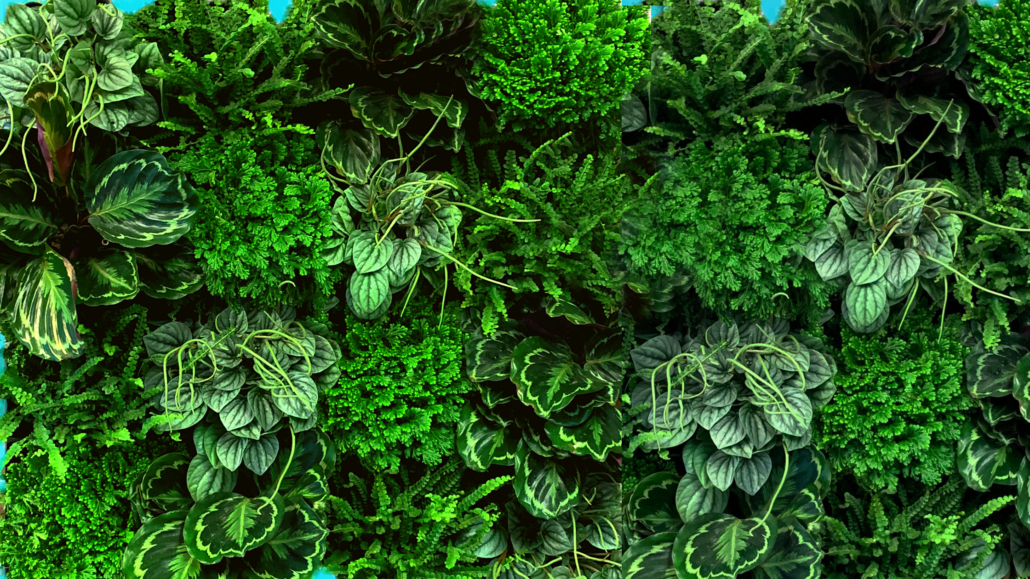 Trends to entice workers back to SF Bay Area offices



COVID gave remote employees a fresh perspective on the workplace. The verdict wasn't pretty.
A survey by Essity, a global health and hygiene company, found that most workers felt they had a healthier lifestyle working from home than in the office.
58 percent felt their offices were "shamefully eco-unfriendly.
75 percent of workers wanted a more eco-friendly office.
Given their strong opinions, it's no surprise that the return-to-work enticement trends, including Biophilic design elements, are driven by employees.  In other words, employees want plants in the office. (Biophilic design refers to bringing nature indoors.)
A ten-second exercise for you. Scroll up to the header and look at the image of the living wall. Don't you feel a bit more relaxed?
This month's post.
Included is content from a post from last year with updated information on trends.
Lots of photos. Scroll down to see them.

The post-pandemic office trends — employees want plants in the office. Why and how.
4 trends in plants that your employees will love: easy-care in gorgeous colors.
2 trends in planters, including 4 made of sustainable materials.
Know these trends about plants in the office. They will help you. And make your employees happy



Access to fresh air, light, nature, and any other option to give employees the confidence their work environment is as healthy as it can be, will be the primary driver in a return-to-work strategy.
This quote by Jones Lang LaSalle best articulates what employees want. "The office should offer an experience as comfortable as home, but with compelling and energetic spaces."
No, this is not a typo.  The term cropped up in the last couple of years and is an emerging trend.  It's an interior design approach that incorporates home-like comforts into an office.  Architectural Design firm, Planforce describes resimercial design as having three aspects.  One is natural elements, i.e., plants.
Elaborated in their March 2022 blog post. "The fancy term is biophilic design, but it just means embracing more plants or elements reminiscent of nature."
Look to the big tech companies. They've embraced this philosophy in a big way with lush indoor jungles and giant living walls, and it's been a successful recruiting tool.

Do you manage or own your commercial building? Double your benefits. When plants are in the office, workers are happier, more relaxed, and more productive (this is backed by science). And biophilia can boost property values.
Experts predict landlords will see tangible ROI by investing in plants and more natural lighting.
Science-backed evidence about the biophilic workplace
An NPR story on the post-pandemic office underscores this idea.
A panel of experts discussed nature as an indispensable factor in a healthy office. Plants in the office, such as living walls, are recommended instead of partitions as room dividers. Biophilic design (bringing nature indoors) as boosting productivity and overall well-being.  The panel also discussed natural construction materials – extending the connection to nature.
A white paper was published by Silverado Roundtable and distributed via their website. A compelling read.  Compiling research from architects, architects, social scientists, and psychologists.  The paper offers an engaging rationale for the post-pandemic workspace to be reinvented and more aligned with nature.
4 Plant trends
Reading about the latest in office plants this year, I found the most inspiring news from Sunborne, our SF Bay Area supplier. A combination of new products and a fresh look at some of our common interior plant types in bold colors and tribal-like leaf patterns. As if someone dipped a brush into watercolor paint. Energizing. Which explains the impact plants have on people.
1. Large plants
A trend this year. They're referred to as tree-like statement plants. Place them in a corner or by a window, depending on their lighting needs. Or group them in a row for privacy or to enclose one area.
Another trend — is bolder colors. The image below is one example. Scroll down for more on the color trend.
2. Easy care plants
Everyone wants that. Luckily there are many options.
One example is Pothos, which has wide varieties to choose from. The climbing variety looks great on a desk or bookshelf.
Sansevieria is another hardy interior plant that we recommend. It won't demand much of you. Depending on where you place it, it won't need much water.
The image below has some examples. But there are many more low-maintenance plants to choose from.
Scroll down to download our plant catalog, which has most of the plants we carry and maintenance tips.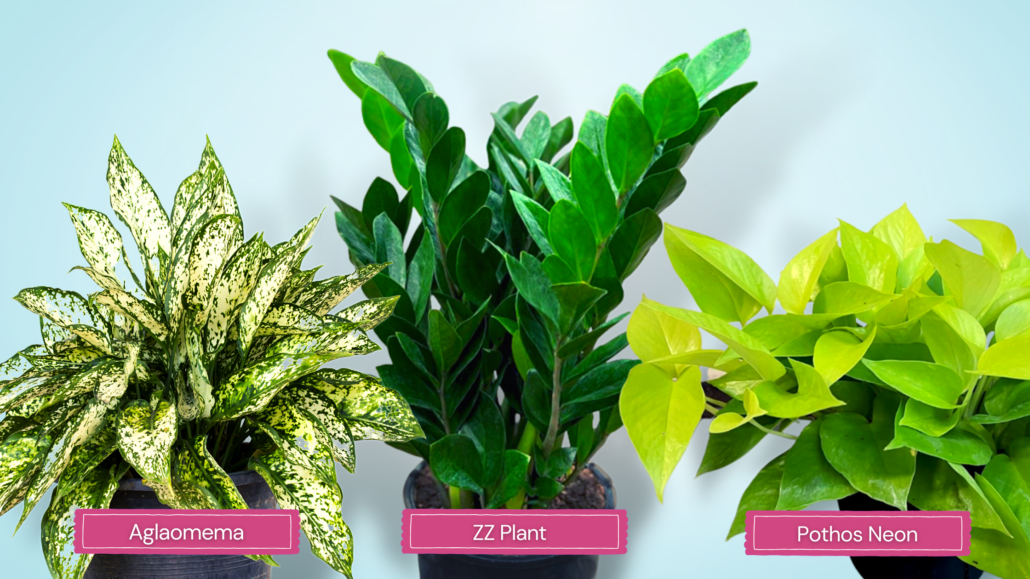 3. Bold colors
Multiple sources talk about variations on the theme of plants and containers as art. Many popular interior plants are available in exotic shades and gorgeous neon green foliage.
One study found that plants with purple, red, pink, and white flowers can lower people's blood pressure or heart rate. Another finding was that purple and green flowers helped to relax the body.
Another study found that green-yellow and bright green leaves increased feelings of cheerfulness.
See the image below for a few examples and a description.
4. Framed moss art
Want a mini living wall that doesn't require any maintenance?
Look no further than the latest offering. Framed moss living art! We just discovered them.
Approximately 15 inches in diameter, moss circles come in different colors and four designs. Colors are mixed green, forest green, medium green, and lime green. Ask us for more information. See the sample below.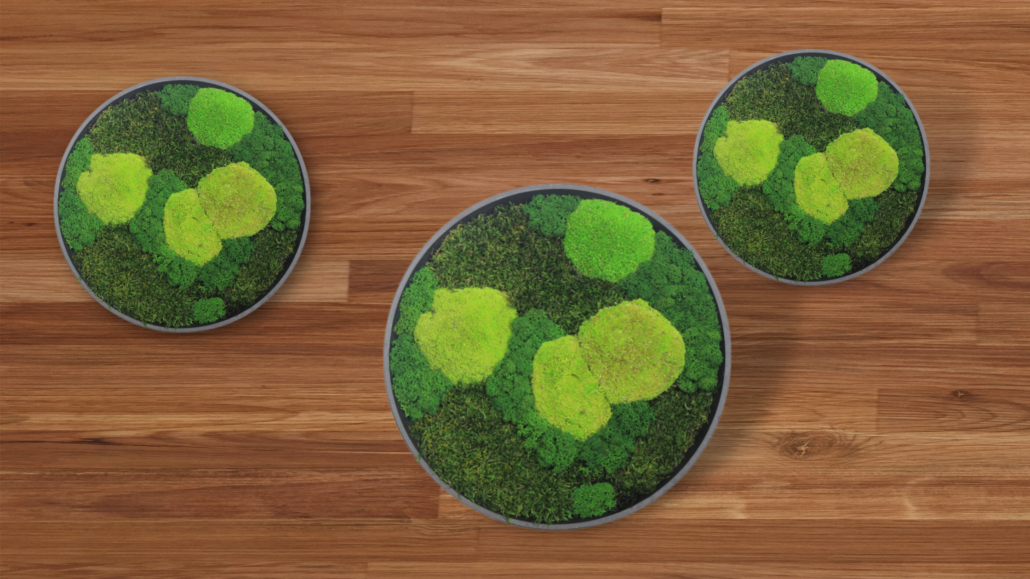 2 Planter trends
1. We're excited about a new planter line called Alta.
Elegant and sturdy. They come in multiple colors and will complement your modern office decor.
They are made of Fiberstone, a combination of crushed stone and fiberglass. Gives it a smooth finish.
Alta containers come in two different shapes. Cylinder and taller cylinder.
Five colors: grey stone, white, quartz, matte black, neptune blue, and warm terracotta.
The image below includes some of the available colors.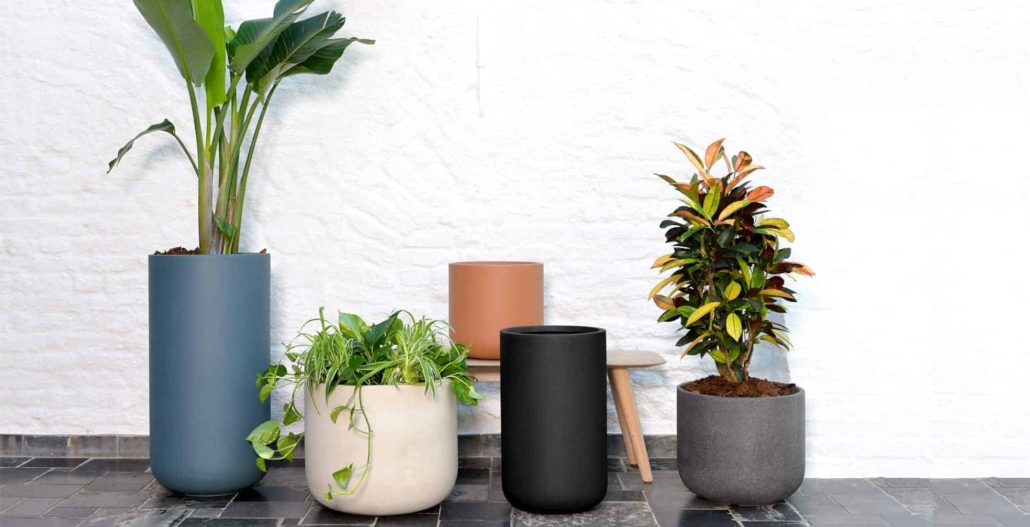 2. Planters made of sustainable materials are more popular than ever
The many facets of sustainability continue to grow.
Planters made of natural materials are increasingly popular. There are several container lines that we recommend. Three of them are featured in the image below. As you can see, each container type is numbered, and below the image is a description corresponding to each number.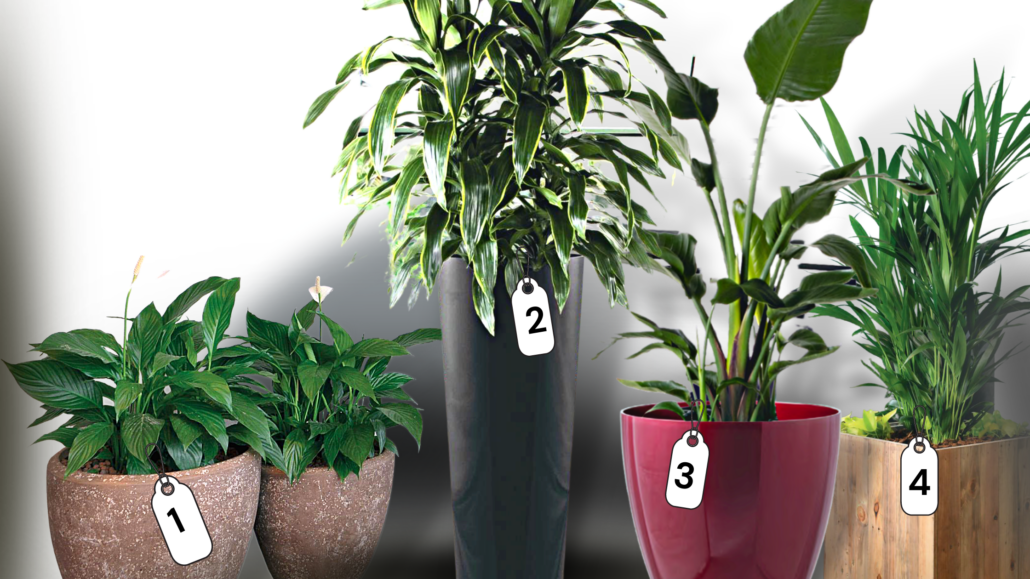 1. Light stone
Pictured on the far left. They are made of natural stone and resin, resulting in a lightweight and more manageable product than raw stone.
4 styles: floor, tall, boat, and wall panel.
The boat style is perfect for reception desks.
3 finishes: prairie brown, mountain grey, and seaside bisque.
2 & 3. Phoenix
Pictured above in the center. Made of post-consumer recycled plastic.
3 styles: cylinder (pictured above#3), squares, tall vases (pictured above #2), tall squares, and rectangles.
Finishes: Gloss, matte, metallic, and gemstone.
30+ colors
4. Salvage wood
Pictured on the far right. Made of pine salvaged from used pallets and shipping crates. Each planter comes with a recycled plastic liner keeping it watertight.
4 styles: cubes,  tall squares, file tops (designed to adorn the top of file cabinets), and floor rectangles.
Closing thoughts
Don't leave without reading our lighting tips.
A lot of myths about lighting circulate on the web. We're setting the record straight.
Your plants aren't picky about where the light in your office comes from. Florescent, LED, LED grow lights, or — even sunlight! Plants can't tell the difference. We measure the lighting in your office with footcandles and use a handy tool that indicates what kind of plants are best suited for your environment.
Looking for more plant ideas and tips on maintaining them?

Download our catalog of plants.
Color-coded based on their light requirements.
Plants with the highest air-cleaning properties are also marked.
Organized by size: tabletop or floor plants.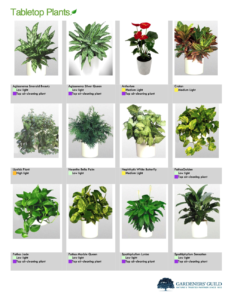 https://www.gardenersguild.com/wp-content/uploads/LivingWall.jpg
1260
2240
Gardeners Guild
https://www.gardenersguild.com/wp-content/uploads/Gardeners-Guild-logo-web-tweak.png
Gardeners Guild
2023-02-28 21:34:59
2023-02-28 21:37:54
Want employees back in the office? Don't ignore these science-backed trends