How to Adapt Your Landscape to the Drought
---
Adapting Your Landscape

We're going to help you adapt your landscape to the drought. Yes – you can adapt. We see it as a combination of being well-informed, horticultural best practices, and creative reimagining. Beautiful landscapes can and will prevail.
They may look different. How we use plants and water will change, and we will guide you through each step of the journey.
First, know that San Francisco Bay Area water utilities have spoken. At this moment, only a few have scheduled mandatory water rationing but all are urging cut-backs. Keep in mind – this could change tomorrow.
What's in this post.
An up-to-date report on water usage restrictions – organized by district. Download PDF for the latest policies.
What Gardeners Guild is doing to support you.
What you can do – now – and later.
Water District Policies

San Francisco – as of today, no mandates. The district is urging residents to conserve.
MMWD – Marin County has a very specific water rationing policy.
NMWD – North Marin until July 1st residents are asked to voluntarily conserve by 20%
Santa Rosa residents are asked to voluntarily conserve usage by 20%
EBMUD – Declares Stage 1 drought and urges a voluntary reduction of 10%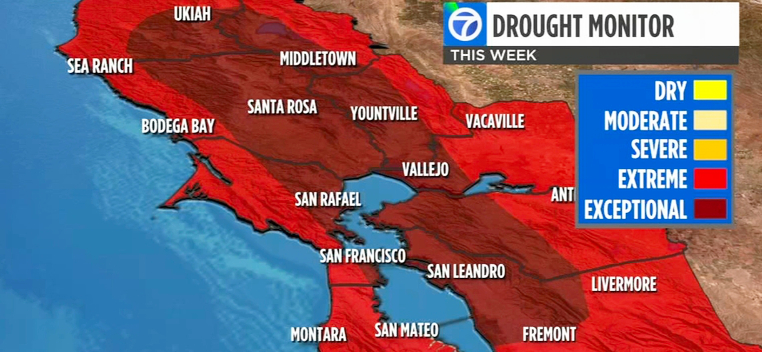 ABC7 map shows the extent of the drought in the San Francisco Bay Area
---
What to do now
According to the US Drought Monitor, most of the Bay Area is in either what is called D3 or D4, Extreme or Exceptional Drought. Exceptional being the driest.
For some perspective, in a Severe Drought, the US Drought monitor describes what happens to plants. "Trees are stressed; plants increase reproductive mechanisms; wildlife diseases increase."
Protect your trees first.
Trees are your high-value plants. They provide shade, give off oxygen, regulate extreme temperatures, nurture wildlife habitat and help us adapt to climate change. But they may be stressed because of our dry winter.
Symptoms of stress include wilting and undersized leaves, leaf drop, and disease – these are just a few.
A drought-stressed tree needs water. Some watering methods include soaker hoses, gator bags, or deep root watering. Proper watering depends on the species, its age, and where they are planted. Water them slowly, says UC Master Gardener Program. See the image below.
Mulch – two to six inches of mulch around your trees. Organic mulch will help the soil retain moisture. (See the link below for rebates)
---
Irrigation – Is your system is working efficiently?
Water early or late – before 9 am or late – after 7 pm.
Fix any broken sprinklers and repair leaks
Correcting them could save 10 percent off your water bill, and improve your plants' health.
University of California suggests you also check
Automatic valves, heads, and other connections to ensure they are functioning
Other irrigation problems can include broken, sunken, crooked, or clogged emitters.
This evaluation can be complex, we suggest consulting with a professional.
Consider
Spray to drip conversion – it will save water.
Smart controller – it adjusts according to weather and will save water.
Irrigation audit to determine your system's efficiency.
Check for rebates – See attached for details
Plants – Evaluate and Prioritize.

University of California suggests you prioritize the care of high-value plants such as trees, (as stated above) shrubs, groundcover, and herbaceous perennials.
Lawns and bedding plants can be re-established more easily and less expensively.
Start planning now. Depending on your location, dry, brown turf areas can be a fire hazard. You may need to replace your lawn with mulch and drought-tolerant plants.
Check for rebates – See attached for details
Mulch
Applying mulch will help the soil retain water.
There are many types of mulch, including tree service mulch, which is free, except for the cost of spreading. Gravel is another increasingly popular form of mulch.
---
Additional Tips and Tools
Root zone moisture products such as Hydretain, will help supplement watering.
Rebates – some water districts are offering them for turf conversion and irrigation upgrades.
Some offer free mulch.
See the downloadable list of rebates by district
What Gardeners' Guild is doing
Tracking water districts in our service area for water policy updates.
Supplying you with tips on allocating water usage to save plants and trees.
Guidance on how to best prepare for any mandatory water rationing.
Tracking rebates and any updated information.
Helping clients to prioritize plants by their value.

Final Thoughts and Cautious Optimism

The above quote was taken out of context. I found it encouraging, but there will be variances depending on the plant type, its age, landscape, and its environment. More than anything it speaks to the extent that plants are over-watered.
Some additional notes.
The drought has compounded the risk of wildfire. Be mindful that a dry landscape can be at risk. Plan what plants you want to stop watering and/or plants you want to remove and what they will be replaced with. This is essential.
We want and need attractive landscapes. They make a difference in our well-being. It just means we will need to re-invent how we manage them.
Talk with a professional who can help you plan.
We will continue to do our part – updating you on water district policies, rebates, how to plan, short and long term for adapting your landscape to the drought.
---
https://www.gardenersguild.com/wp-content/uploads/Drought-Photo-5-2021.jpg
242
480
Gardeners Guild
https://www.gardenersguild.com/wp-content/uploads/Gardeners-Guild-logo-web-tweak.png
Gardeners Guild
2021-06-09 20:37:48
2021-06-14 22:08:01
How to Adapt Your Landscape to the Drought